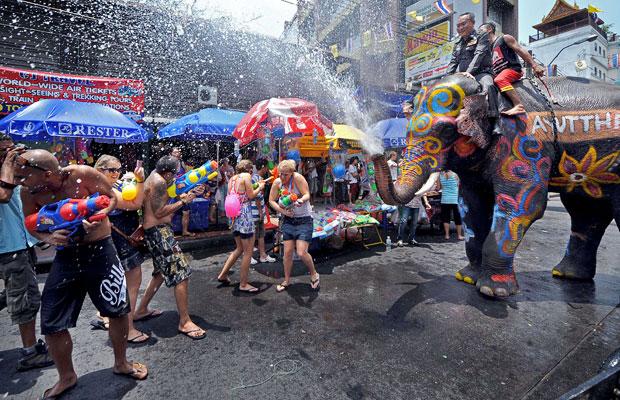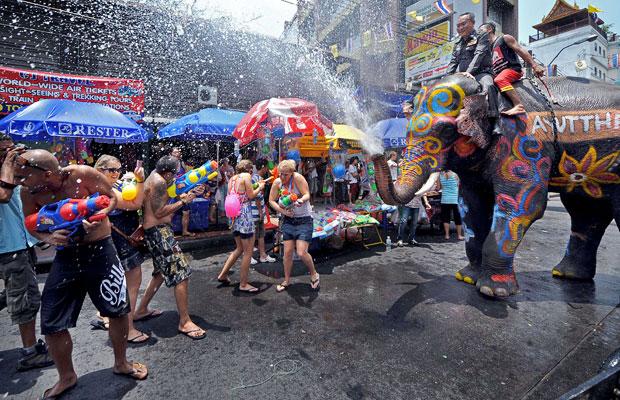 How to have fun, behave and protect yourself on Songkran
Next week, it's Songkran in Thailand. Songkran is the Thai New Year and is also known as the Water Festival as, to celebrate the New Year, Thais throw water over anything and everything that moves.
From Monday until Wednesday (April 13th to the 15th), if you're anywhere in Thailand and leave your house or hotel between the hours of 7am and 7pm, you will get water poured on you. And when I say "water poured on you", by the time you get to the end of the street, you'll be so wet you'll be right at home in a wet t-shirt competition.
If you want to come to Thailand and enjoy Songkran though, how should you behave to make sure you have the best time possible? And what can you do to protect yourself on Songkran from too much water? Read on for a few tips, and Songkran will be nothing more than a huge amount of fun.
Expect to Get Wet – If you are walking on the street anywhere in Thailand during Songkran, you will be soaked through before you've gone 100 yards. Every house will have hose pipes outside, trucks drive by loaded with people pouring water on everyone from huge barrels in the back of the truck, kids will shoot water pistols at you and, even shops will have buckets of water at the ready to thrown on anyone in the vicinity.
April is Thailand's hottest month though so, actually, it cools you down and is fun.
Put Your Wallet, Camera, and Cell Phone In Plastic Bags – Don't just protect yourself on Songkran, but protect your stuff as well. If you're outside, you'll get so much water thrown on you it will soak through your bag and onto your wallet, camera and cell phone. Everyone in the know in Thailand makes sure that anything that can be damaged is put in their purse or pockets in plastic bags, so the water cannot destroy it.
Don't Wear Clothing That Will Be Damaged By Water – Wearing silk, suede, linen or any other fabric that will stain is a no-no during Songkran. Also, don't wear any expensive outfits as, sometimes, the water isn't always perfectly clean so you don't want your favorite outfit ruined.
Smile – Songkran is a time to have fun. Pouring water on you is supposed to bless you and give you luck for the coming year. So, if someone pours water on you, smile or laugh and say "khop khun kha" (thank you) if you're a woman or "khop khun kap" if you're a man. Thais will be delighted that you're having fun and also pleased that you're not angry with them.
Buy a Water Pistol and Shoot Back – Right before and during Songkran, water pistols are for sale everywhere and they're cheap! Buy one for yourself and make sure you carry it with you. You can then shoot back at anyone that shoots at you and, once it's empty, fill it up at any of the barrels of water or hose pipes all over the street.
Stay Away From Westerners – One thing I learned quickly in Thailand over Songkran was to stay away from other Westerners. Where Thais think Songkran is fun and they're actually usually quite gentle with the water, a lot of Westerners will deliberately point the water pistol at your eyes or in your ears with an intent to hurt.
That's why my friends and I stay away from the western (farang) areas over Songkran. Most of them though congregate in Bangkok around Khao San Road, so if you stay away from there you'll probably be safe.
Stay Off The Roads As Much as Possible – One of the main ways to protect yourself on Songkran is to stay off the roads as it is the worst time of year in Thailand for people being killed while driving or being driven.
Thais drink a lot over holidays and drunk driving causes a lot of deaths during Songkran. On top of that, people throw water and powder over folks on motorbikes – the water and the powder get in the driver's eyes,the driver can't see so the bike goes down and sometimes the driver is then killed by a passing car or bus. As much as possible during Songkran, either walk or talk public transportation like the boat, the bus, sky train or underground. It's safer.
Take Lots of Photographs – Songkran is the most fun of any of the Thai public holidays. Don't forget, take a lot of photographs (keep your camera in its plastic bag though so it doesn't get wet) and you'll have some great memories from an interesting trip.
Just remember, Songkran is supposed to be a fun time. It's also a unique holiday you won't find anywhere but Thailand so come, enjoy and have fun. Thais love to have fun and they'll love you if you get into the spirit of things too!