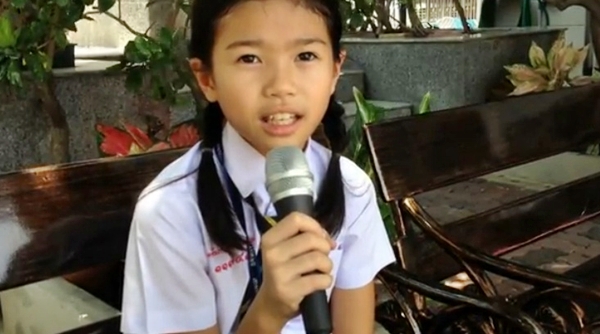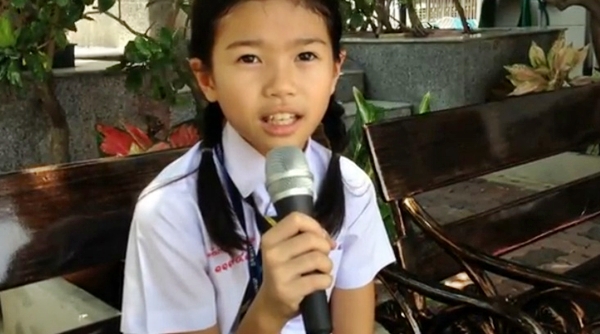 If you are Thai and are still finding it difficult to speak English fluently, this little Thai girl can help you. Not only does she already speak fluent English, but she has some great tips about how any Thai person can learn to speak English fluently.
1.  Speak English with your mother, father, sister, brothers and all your friends.
2. Watch cartoons and English movies (turn on the English subtitles – it helps you understand the words better).
3. Pay attention to your teachers and be a "lovely student" (very cute!!)
4. Learn English everywhere you go (read English signs, English newspapers and magazines, and English brochures).
5. Do your homework and practice, practice and practice
6. Even if you are older and have children of your own, you can still learn English
7. English is useful for going on holiday, as millions of people around the world speak English. Practice yours when on vacation.
The video was posted by a Thai school called Sriwittayapaknam School, which is located in Samut Prakan. The little girl is called Onrampha Souvannavong and she is the winner of one of their recent Speaking English Competitions.
Sriwittayapaknam School has quite a number of videos up promoting its English program as well as others about their Chinese language program and various other school activities. It looks like an excellent school and, if you're in Samut Prakan and want your children to learn to speak English, it may be a great choice of school for you.
For more information about the school, check out their blog. It's lovely.
And, if you are Thai and want to learn to speak English fluently, listen to Onrampha and do what she says.