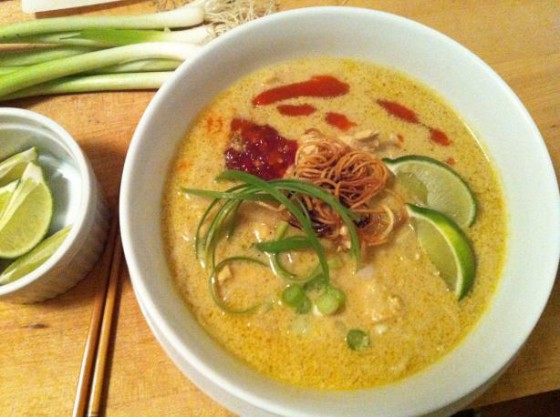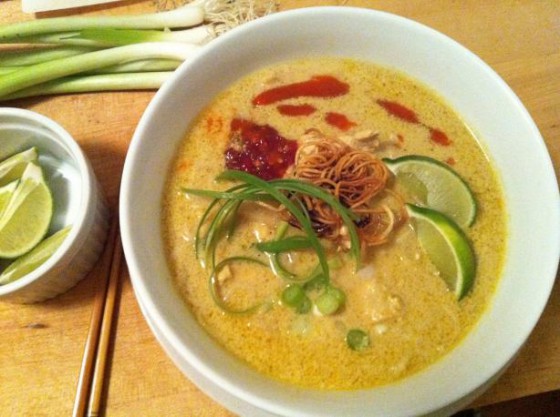 As a resident of Thailand, I often have westerners ask me for recipes for how to make famous Thai dishes like Khao Soi. Not being someone who cooks much, I usually buy Thai food on the street as it's cheap and delicious. But, I am so addicted to Khao Soi, I made sure I got a recipe from a Thai friend and learned how to make it.
Khao Soi (or Chiang Mai noodles) is a curried noodle dish from Chiang Mai and literally means 'Cut the rice'. Now Khao Soi is popular all over Thailand and can be ordered at many Thai restaurants. If you've ever eaten a curried noodle dish loaded with chicken, beef or pork, and topped with crispy Chinese egg noodles, then you've eaten Khao Soi. If you loved it, try this Khao Soi recipe. It's wonderful.

Ingredients: Chinese egg noodles (enough for 4 people), chicken pork or beef, half a cup of coconut milk, one quarter cup of coconut cream, half tablespoon red curry, half tablespoon green curry, 2 cloves of chopped garlic, 1 cup of chicken stock, 2 tablespoons of fish sauce, 1 tablespoon of lime juice
Ingredients for topping: Bean sprouts, chopped red onions, bag of crispy fried egg noodles, chopped raw cabbage, chopped raw green beans, sugar, dried chillis, slices of lime
How To Make Khao Soi Noodles
1. Prepare the noodles first by soaking them in water for 30 minutes, then putting them in boiling water for no more than 30 seconds (now, they're cooked and ready to eat).
2. In a large wok or pan, pour in the coconut milk and coconut cream, and stir in both the green and red curry. Add the chopped garlic and stir for a minute.
3. Add the chicken stock,fish sauce and lime juice and stir again.
4. Finally, put your chosen meat (chicken, fish or beef) into the pot of steaming liquid and stir slowly until the meat is thoroughly cooked (about two minutes).
5. Now put the cooked egg noodles into 4 dishes and spoon the liquid over each bowl, making sure the meat is equally divided into each dish.
6. Add a tablespoon of bean sprouts, some chopped onions, chopped cabbage, green beans and then squeeze a slice of lime over the whole bowl. Add a few crispy fried egg noodles and your Khao Soi is ready to eat. Enjoy.
Best served with Thai iced tea or coffee, or a fresh fruit juice.