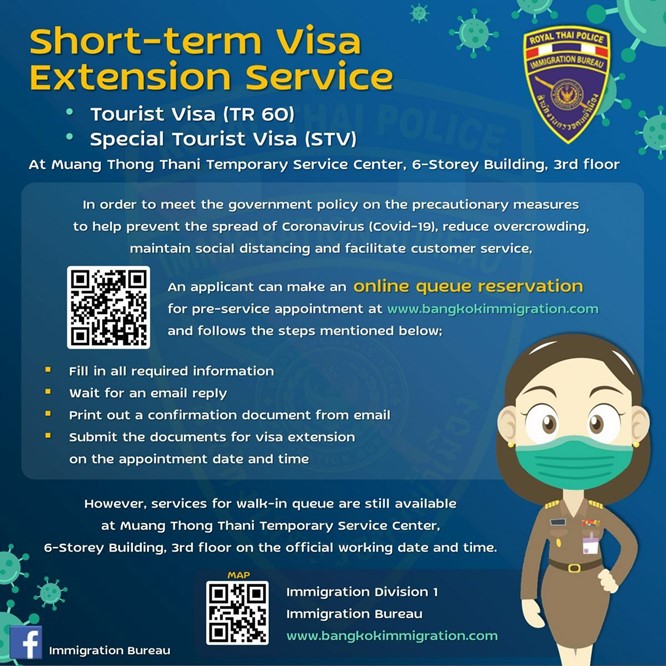 In an effort to prevent the spread of Covid-19 in the Kingdom, the Thai Immigration Bureau has announced appointments are now required for renewals of Tourist Visas (TR 60) and Special Tourist Visas (STV).
Appointments can be made online at Bangkok Immigration (although, in true Thai Immigration style, they have made it as difficult as possible to figure out how).
In other words, if you are struggling to figure out how to make an online appointment for a Thailand Tourist Visa in country, here is what you need to do.
Head to the Bangkok Immigration website.
Click on the link that says Queue Online.
Read the graphic that tells you appointments for visa extensions for Tourist Visas, Retirement Visas, Teacher/Student Visas, Business Visas etc can now be made online.
At the bottom of that page, read the statement 'Immigration division 1 queue online is available now' and then click on the 'click here' next to it.
That will pull up the Rules of online appointment queue reservation for you to read and accept.
A form will then appear. Complete the form with your name, passport number, visa type and other information and hit Next.
You will then be given the time and day for your Tourist Visa extension appointment.
Thai Immigration asks you to please arrive at least 15 minutes before the time of your appointment for Tourist Visa renewal.
You must reside in Bangkok to be able to use this service, and you can extend your visa up to 45 days before it expires. If it already has expired, however, you cannot use this service.
Be sure to also bring all the required documents with you as, if you do not, you will be asked to make another appointment for a later date. Depending on how long you leave it, that could cause your Tourist Visa to expire.
Make the appointment well in advance, however, and having an online appointment should make your Tourist Visa renewal fast and simple.