How to Take a Songtaew (Red Pick Up Truck Taxi) in Chiang Mai, Thailand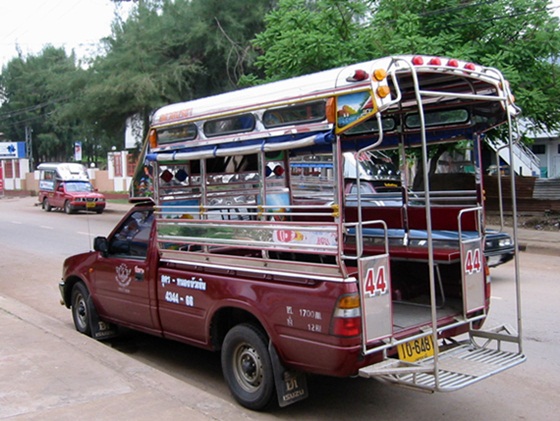 One of the first things you'll notice in Chiang Mai, Thailand is the thousands of red open-sided pick up trucks driving around city streets. These small burgundy-red pick up trucks are called 'songtaews' by the Thais and are the vehicle of choice locals use to get around Chiang Mai.
The bus service in Chiang Mai is not as good as in other cities in Thailand, tuk-tuks are more expensive than you might think, and not everybody wants to ride a motorbike. So you won't find a better way than the songtaew to get around Chiang Mai. Learning how to take a songtaew does take a little while to get used to but, once you are, you'll wonder why you haven't taken one before.
Songtaew actually means "two rows" in Thai and refers to the two long benches that are placed in the back of each pick up truck for passengers to sit on. If you visit Chiang Mai and want to take a songtaew though, how do you get one to stop for you and how do you know if you're hailing the right one?
Hailing a Songtaew – It's easy to hail a songtaew in ChIang Mai. You'll see one passing you on the street every 20 to 30 seconds. Just stick out your hand and wave one down. Songtaews will often have other passengers in them too, but that doesn't matter. The songtaew is a shared ride system, so whether there's nobody in one or it already has five passengers, the songtaew driver will stop when you wave him/her down.
Getting Where You Want To Go in a Songtaew – When the songtaew stops next to you, tell the driver where you want to go. If you know your destination in Thai language it will often be easier but, if you don't, most of the songtaew driver's speak enough English they can figure it out. If the songtaew is going near your destination, and he's not absolutely jam packed full, the driver will agree to take you.
Agree To the Fare Before You Go – Most trips within Chiang Mai city limits should be between 15 and 30 baht (48 to 95 cents) but, if you're a foreigner, some of the drivers will try to get more money out of you. Try to insist on no more than 30 baht and if he's going much higher, just wave him on and try the next songtaew.
At this point, most of the driver's will just agree to 30 baht and tell you to get in. Hop in and off you go.
Stopping at Your Destination – When you see your destination coming up, press one of the buzzers in the roof of the truck and the driver will stop. Get out, walk around to the front of the songtaew and pay him your fare and that's it. You're no longer a songtaew virgin!
You Can Charter Songtaews – Songtaews in Chiang Mai will allow you to charter them if you want to go somewhere special. I've chartered a songtaew to go up to Doi Suthep (the famous Thai temple half way up a mountain just outside Chiang Mai) and also one to go to the umbrella factory.
When you do this, they don't stop for any other passengers, just take you where you want to go. Expect to pay a few hundred baht for this service though, although they're usually cheaper than taxis. Just stop one on the street that doesn't have any passengers in it and ask if they'll go there.
Agree on the fare up front (make sure you let him know you want him to wait for you too if you plan on doing a return trip with the same songtaew driver), and once you're in agreement you can go. Many of the songtaew drivers will wait for you while you're sightseeing and then take you back to Chiang Mai when you've finished. Paying the fare plus a tip of between 30 and 60 baht, depending on the length of the journey, is fine.
Songtaews are a fabulous way of getting around Chiang Mai. They're cheap, they're fast and the drivers know their way around the city well.
It's also fun watching Chiang Mai go by as you whizz through the streets. They're even surprisingly cool on a hot day as you get a nice breeze from all the open truck sides.