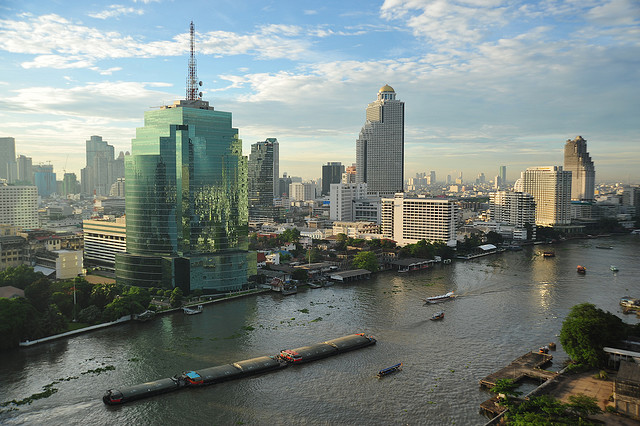 A wonderful way to see Bangkok is to take the Tourist Express Boat on the Chao Praya River. The Chao Praya River runs the length of Bangkok and, unlike roads where traffic is terrible, there's never a traffic jam on the river, so it's easy to get around.It's also a wonderful place to check out authentic Thai life.
The Tourist Boat in Bangkok goes from one pier to another, visiting eight piers in all. You pay 150 baht ($5) and you can get on and off the Tourist Boat all day as many times as you want. You also get a free map. The Tourist Boat in Bangkok is a great way to see the traditional Thai river culture and experience the cool river breezes, but, what can you expect to see?
Sathorn Pier – Saphan Taksin is the last sky train on the Saphan Taksin-National Stadium line. Take the sky train down to this station, then head towards the river to the Sathorn pier.At Sathorn, you can get on the Tourist Boat and start your journey.
Get your ticket at the small desk near the river and stand in line to wait for the boat. The boats run every 30 minutes so, if you've just missed one, you won't have long to wait for the next. Once on the boat and moving, you'll immediately notice the tour guide, who will tell you a little history about the river and the buildings, while you're cruising. When I took the boat, the guide spoke in English, Thai and Japanese, which covered a great many of the tourists on board. The information she gave was also interesting as we learnt not only about the river, but also about the history of the buildings we were passing.
Oriental – The first pier you'll stop at is the Oriental, next to the world-famous Oriental Hotel. Here you can see the French Embassy, which is one of the oldest embassies in Bangkok, as well as Assumption Cathedral. Assumption Cathedral is a beautiful Catholic church and, surprisingly, in Buddhist Thailand, has many parishioners. It's also worth seeing for the gorgeous architecture.
Si Phraya – After wandering around (and don't forget to take photographs), get back on the boat to the next pier, Si Phraya. Overall, there's not much here but, if you like antiques, River City will be interesting to you. It's quite a large shopping center dedicated to antiques and antique furniture. Prices are steep, but they do have some lovely pieces.
Ratchawong – Ratchawong is where everyone gets off for Chinatown. Bangkok's Chinatown is huge and sells everything you can imagine. It also has some amazing restaurants and street stalls, so if you're ready for lunch or a snack, this would be the area you should get off at. Chinatown is just a short walk from the Ratchawong Pier. Get off the boat and get directions to Yaowarat Road and you can't miss it.
Tha Tha Thien – Two of Bangkok's most famous temples, Wat Po and Wat Arun, are within walking distance of the Tha Thien Pier. Well, Wat Arun, you actually need to take a boat across the river but, at around 5 baht (14 cents), it's cheap enough. Wat Arun is also known as the Temple of the Dawn and it's the temple you see on most books and posters that have photos of the river. Wat Po is world-famous for the home of the Reclining Buddha, one of the largest Buddha images in the world, as well as the place where you can get the best massage in Bangkok, or learn to give a Thai massage yourself.
Maharaj – Maharaj is where many people will get off, as it's from here when you can walk to the Grand Palace (Thailand's most visited tourist attraction) and Wat Phra Kaeo. Just about the most beautiful buildings in Thailand, make sure you get here early as it gets crowded very quickly. It is, however, THE place in Bangkok you should visit if you don't have time for anywhere else.
Wang Lung – The Museum of Forensic Science is near this pier, in Siriraj Hospital, Bangkok's oldest hospital. World famous for the embalmed body of a convicted Thai murderer, as well as dissected body parts and deformed children in bottles of formaldehyde, this museum is a must see if you're not too squeamish. Patravadi Theatre, a contemporary theatre, with lovely gardens, shops and some great little restaurants where you can eat lunch is only a 5 minute walk from the pier.
Phra Arthit – The famous backpacker area, Khao San Road, is easily accessible from Phra Arthit, and it's a wonderful area if you're looking for cheap restaurants, cafes, used bookstores, lots of bars, and cheap guest houses.  While Khao San Road isn't my favorite place, it's still a must-see area for any new visitor to Bangkok, as it's been Backpacker Heaven for decades and is a lot of fun.
The Tourist Boat in Bangkok really is an amazing deal. You'll travel around 10 miles each way and see so many things you cannot see from the roads. On hot days too, the river breezes really cool you down so, if the Bangkok heat is getting you down, hit the river and hop on and off the Tourist Boat. And take some photographs too!
For more information and the boat schedule, go to the Chao Praya Express Boat (Tourist Boat) webpage.