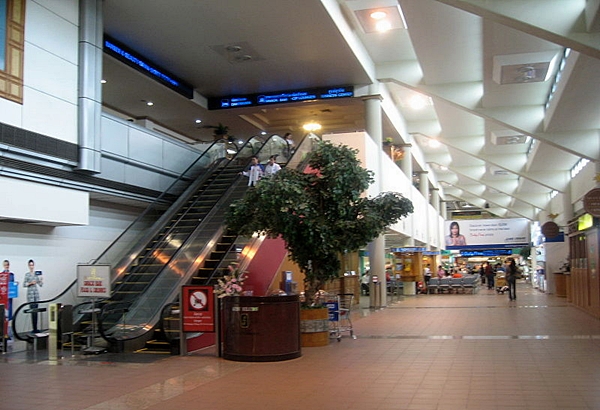 If you are new to visiting Thailand or you have not been in a while, you may be surprised to learn if you are arriving at Bangkok's Suvarnabhumi Airport and transferring to Air Asia or another budget airline, you'll now have to transfer to Don Mueang Airport.
That means traveling across Bangkok from one airport to another for your flight. Luckily, getting a transfer between Suvarnabhumi Airport and Don Mueang, or vice versa, really isn't that difficult. Here's how to do it.
Transferring Via Shuttle Bus from Suvarnabhumi Airport to Don Mueang Airport.
Beginning on October 1st, upon arrival at Suvarnabhumi Airport, you will need to go to the second floor of Suvarnabhumi Airport's Terminal (it's all one terminal) – close to Gate 3. Here you can catch a free special express shuttle bus directly to Don Mueang. They leave every hour between 6am and 10pm, with several buses going around the same time depending on the number of passengers needing them. There's also plenty of space for large luggage, so don't worry about that.
Shuttle buses from Suvarnabhumi are non-stop and will get to Don Mueang Airport via expressway. Do remember, though, traffic in Bangkok at any time of the day can be horrendous. That means you need to allow several hours for transfer plus check-in, or you will miss your flight.
Just as a hint, the average time of a transfer from Suvarnabhumi to Don Mueang via free shuttle bus will take at least 50 minutes but, depending on the time of day, can take up to two hours.
Transferring Via Shuttle Bus from Don Mueang Airport to Suvarnabhumi Airport
If you are transferring from Don Mueang to Suvarnabhumi Airport, you can catch the free shuttle bus on the first floor of Don Mueang Airport's Terminal 1. They leave between 6am and 10pm every day. Again, allow up to two hours for the trip so you don't miss your flight.
Just be aware, however, Air Asia has already moved most of their flights from Suvarnabhumi Airport to Don Mueang as have 13 other budget airlines so, if you need to transfer before October 1st, you will have to take a taxi. Cost per trip should not be more than 400 baht ($12.90).
The rest of Air Asia's flights will be transferred to Don Mueang Airport by October 1st, 2012. That means, if you are flying anywhere on Air Asia from Bangkok, you will be flying out of Don Mueang Airport. No worries.
It is a nice airport and buying food there is cheaper than at Suvarnabhumi.