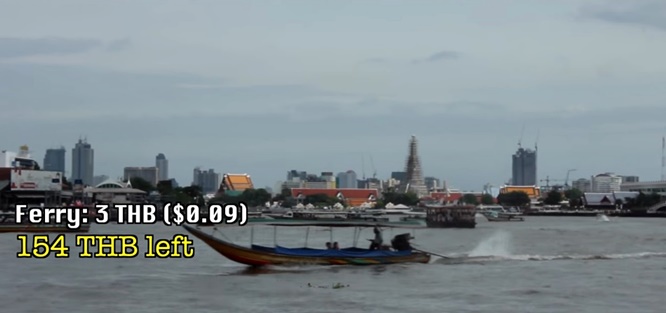 Bangkok, Thailand is one of the cheapest major cities in the world. I should know, I lived there for 14 years and I lived there very frugally, yet still managed to have a nice lifestyle.
Currently, I'm taking a break from Thailand and living back in Europe for a while, but that doesn't mean I don't miss it every day and look forward to eventually getting back. After all, when you can travel in Bangkok on $20 a day i 2017, and have a fabulous time, why would you want to be anywhere else?
And, if you don't believe that you can travel in Bangkok on $20 a day, this excellent video will give you a good idea of how cheap the lifestyle is here. A lifestyle that includes a decent and clean hotel, delicious food and a lot of fun things to do. On $20 a day — or around 700 baht.
This includes a delicious breakfast of gai yang (grilled chicken), som tam (spicy papaya salad), and sticky rice for just 100 baht (around $2.85), traveling on the BTS sky train, an iced coffee for 20 baht (58 cents), a private room in a Khao San Road hostel for 275 baht ($7.85) a night (a very basic hostel but clean and safe enough), and lunch of pad kana moo (stir fried kale and pork on a bed of rice) and stir fried shrimp and veggies for 110 baht ($3.15).
Watch the video below for what else you can do or buy in the $20 a day traveling in Bangkok, and you may just be booking your holiday there today. And yes, it is completely accurate. I lived pretty much the same way for much of my time in Bangkok. It's amazing how much money you can save.