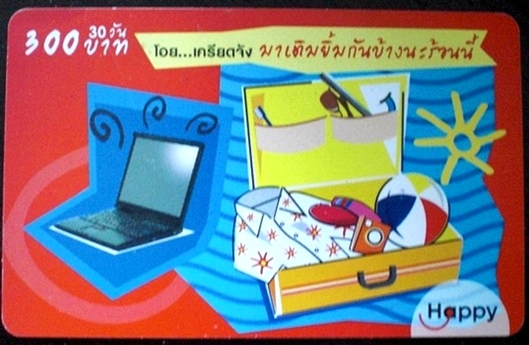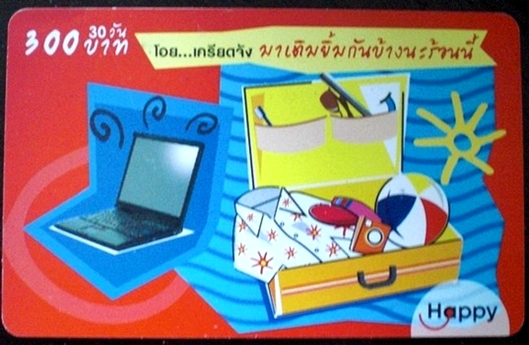 If you'll be a tourist in Thailand and don't want to be charged roaming charges on your cell phone if you use your phone you brought from home, there's an easy way to save money and to get a cell phone activated in Thailand in just a matter of minutes. After all, why pay expensive roaming charges when Thai cell phones are so cheap to buy and use?
Important Facts
Do You Need to Buy a Phone? – For any tourist in Thailand who wants cell phone service, you can either buy a new cell phone at any cell phone stall or shop in Thailand, and they're cheap, or you can use the cell phone you already own and buy a Thai SIM card for it.
If you choose to buy, a cell phone in Thailand can be bought at Bangkok IT malls like Fortune Town and MBK for as cheap as 500 baht ($16) or, if you just want the SIM card, for between 100 and 200 baht ($3-6) depending on the one you choose.
Unlocking an Existing Cell Phone
If you decide to use your phone from back home and it is a locked phone, all you need to do is to get it unlocked. That means taking it to any cell phone stall in Thailand, where they will unlock it for you for 200 baht ($6). Once unlocked, it will work anywhere in the world and, once you install a Thai SIM card, it will work in Thailand.
Getting Cell Phone Service in Thailand Connected – Go to any cell phone stall in Thailand and buy a SIM card. They usually run around 200 baht. Once paid for, the stall owner will unlock it for you, which takes less than 5 minutes.  She will also program everything for you in English, so you don't have to mess with a phone you can't understand.
As for SIM cards, you can choose a SIM card from any cell phone company as they all do about the same thing, although I recommend DTAC as I've used it for 10 years with no problems at all. I hear AIS is also very good.
You are now connected to a cell phone service in Thailand and can call all over the country or anywhere in the world.
Topping Up Your SIM Card – Of course, most SIM cards only come with about 15 minutes of call time on them, so you will want to add more money to be able to make phone calls at will.
The cell phone stall you are currently at can sell you a top up card in denominations of 100, 200, 300, 500 baht etc. You can also buy them at 7-11s and convenience stores, and shopping malls, all over Thailand, which means you don't have to initially put a lot of money on it as you can top it up daily if you like.
My recommendation is to start with 200 baht ($5) and add more money as needed.
To top up your phone, simply scratch off the two areas on the back of the card that have your ID and password on them, then call the Top Up phone number they give you.
Wait for the recorded message to tell you to key in your information, and then key in your ID followed by the pound sign, and your password followed by the pound sign. Ten seconds later the money will be added to your phone and you are ready to keep making calls.