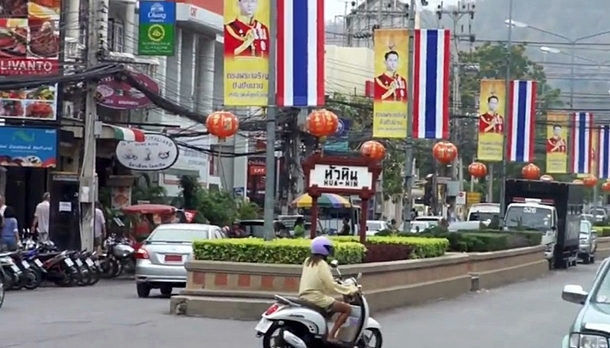 Hua Hin is one of the best beach resorts in Thailand. I spent a week there recently with a friend and had a wonderful time. I highly recommend it to anyone who is looking for a quiet town, with still plenty to do, a nice beach, good choice of hotels and awesome restaurants. King Rama VII built a palace here in 1928, which is now used as a year-round residence by the present Thai king, King Bhumipol Adulyadej. So Hua Hin is very popular with Thais.
How to get to Hua Hin from Bangkok
Getting there from Bangkok is incredibly easy. We went to the southern bus station in Bangkok on a Thursday morning and caught the first available bus direct to Hua Hin. The buses run every 30 minutes, so if you miss one you don't have a long wait for the next.
You can also travel there by train by going to Hualamphong train station, at the end of the underground line. However, a three hour bus ride is about a six hour train ride, so be sure you want to spend that much time on public transportation before you decide on the train.
Do go and visit the train station though, even if you don't take the train. It's one of the loveliest in Thailand.
The bus was fabulous. Just over three hours from Bangkok to Hua Hin, and while on the bus we got to watch a movie and were served bottled water and snacks by a bus attendant, all included in the price of the $5 ticket. We left Bangkok at 11am and arrived in Hua Hin just after 2 pm.
We had booked our hotel on the internet and, once we arrived, were pleasantly surprised to see it was a nice newly-renovated small guest house type hotel one block from the beach. At only $18 a night, with air conditioning, color TV and Western-style bathroom, it was lovely. We checked in, and then headed out into town to look around.
There is a road in Hua Hin, Naresdamri Road, that is the main street for everything tourists and visitors are interested in seeing or doing. It runs from the main Hua Hin highway down towards the beach, then parallel to the beach and back up towards the main highway. It's jammed with restaurants, cafes, travel agents, coffee shops and cafes, internet cafes, and Hua Hin's famous fish piers.
The fish piers are built out into the water, and have some of the best restaurants in town on them. It's beautiful at night, sitting out over the open water, looking at the lights of the town and eating the freshest seafood possible.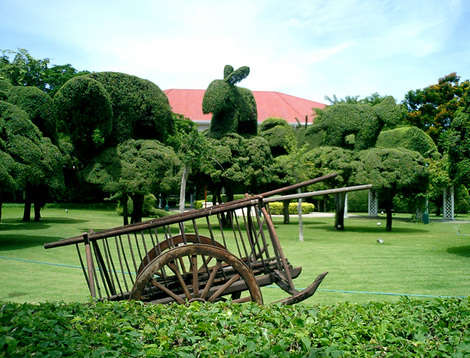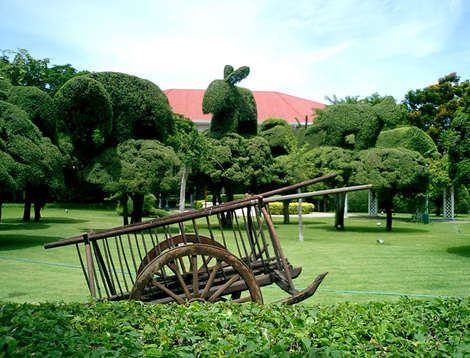 Hotels in Hua Hin
Hua Hin also has fabulous hotels. The Hilton, the Marriott and the Hyatt are here, and provide some of the top level accommodation in town. If it was me though, I'd opt for one of the Thai hotels. There are many 3, 4 and 5 star hotels that are owned by Thai companies or individuals and they have much more atmosphere and Thai-style than the American versions. Most of them are also lower in price too.
The most famous hotel in Hua Hin though is the Railway Hotel. Now known as the Sofitel Centara Grand, it was built in the 1920s as the Kingdom of Thailand's first resort hotel. It's in absolutely stunning grounds with gorgeous tree sculptures and flowers, and has a beautiful main building of colonial-style architecture.
We ate Sunday brunch at the Sofitel Centara Grand on our third day in Hua Hin and it was lovely. Again though, just like the Sofitel in Bangkok, the staff is very snooty and not friendly at all. That makes it a hotel I would never stay at for that reason alone.
Restaurants in Hua Hin
We ate at several restaurants while we were in Hua Hin. All of the fish restaurants on the piers we tried were fabulous. We discovered La Grappa Ristorante, a wonderful Italian restaurant where we ate Italian-style pizza and bruschetta.
There's Hua Hin Brewing Company, where you can experience a wonderful barbecue right on the terrace. They had the best fresh fish and seafood I'd eaten so far in Thailand. They also have a good selection of freshly brewed local beers, which were quite decent for Thai beer.
And, if you like burgers, there are some excellent burger joints in Hua Hin.
Our favorite place to hang out during the day was World News Coffee. It's right next to the Hilton Hotel and had the best coffee in Hua Hin. The staff was wonderfully friendly, the café was beautifully designed with hardwood floors and comfortable seating, and had tons of free magazines and newspapers to read.
They also had free internet access available, and delicious sandwiches, cakes and ice cream sundaes. Most importantly, they had excellent air conditioning. Hua Hin is incredibly hot at most times of the year and many places aren't air conditioned. It was fabulous to be able to go and hang out for a couple of hours and relax in the cold air.
Hua Hin also has excellent markets, including an interesting night market. A fraction of the size of most night markets in Bangkok, it was still a great place to wander around, and one night we even ate a cheap dinner there at a local food stall. Don't miss the fried Thai donuts – yummy!
Hua Hin is famous for its golf courses too so, if you're a golf player, you will love it here. It's also just a wonderful place to chill out. Hang out on the beach, do a little go-karting or kite boarding, or ride one of the horses that trek up and down the beach. It's also an extremely safe town. The King of Thailand is in residence here all year round so you'll see many police and army personnel but, like most people in Thailand, they're low-key and friendly.
My friend and I stayed in Hua Hin for six days and had a lovely vacation. When we left to take the bus back to Bangkok, we were relaxed, had wonderful tans, and had gained a little weight due to all the delicious food we ate.
Hua Hin is a great place for singles as there are good places to eat and great nightlife, but it's also a wonderful town for a family vacation. It's incredibly safe, there's lots to do, but it's not so busy you need a vacation from your vacation when you get home.