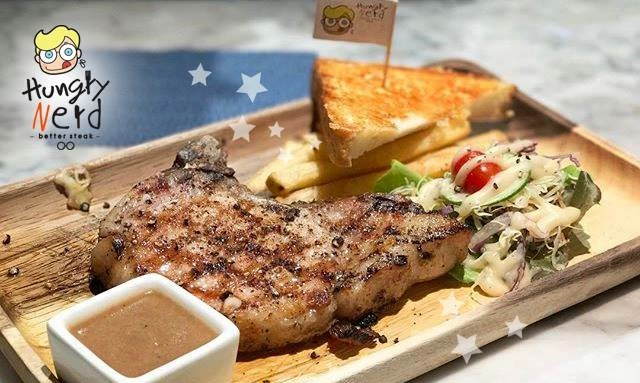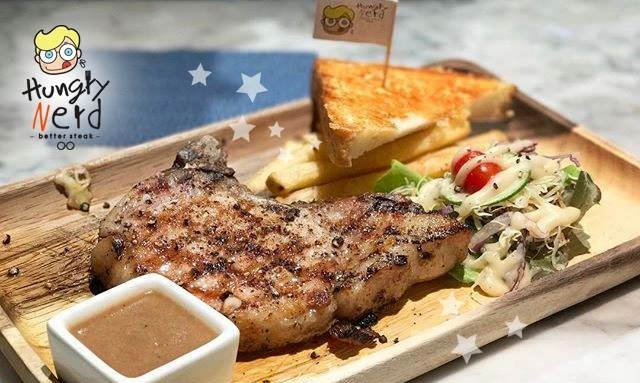 Steak at Hungry Nerd in Bangkok is good — especially for the price
While I was watching Eat Sleep Bangkok's review video of food at Took Lae Dee in Bangkok yesterday, I came across a video review he uploaded about eating steak at Hungry Nerd recently. A video you can watch below.
As Hungry Nerd is a restaurant I ate at a few times before I became a vegetarian I watched it and have to agree with Eat Sleep Bangkok, as I too was pleasantly surprised at how good their steaks were. Particularly for the reasonable price.
What is Hungry Nerd?
Hungry Nerd was started by four young Thai friends, and it's a restaurant that serves western food with an emphasis on steak.
They also serve chicken, pork, fish and spaghetti dishes, as well as things like mashed potatoes, baked spinach with cheese, onion rings, chicken wings, various soups and other western favorites.
All in all, the menu at Hungry Nerd is extensive, and everything I have eaten from it (at least 10 dishes) is good.
It is also a restaurant that has both a western and Thai clientele, is always busy, and it doesn't matter if you prefer to sit inside in an air-conditioned restaurant or outside on a patio in Bangkok's steamy heat, as they have both seating preferences available.
The staff at Hungry Nerd
One thing that always stood out for me at Hungry Nerd was the staff. Pleasant, friendly and fast to take your order, they are also good at getting it right. Believe me, not as common as it sounds in Bangkok.
Apparently, that's not an uncommon thing at Hungry Nerd, however, as Eat Drink Bangkok got the same nice treatment.
On top of that, food service is pretty fast as well. So no waiting half an hour or more for your meal here. It also arrives piping hot and very fresh, and with a smile. Again, not always the case in Bangkok, although the smile is pretty common.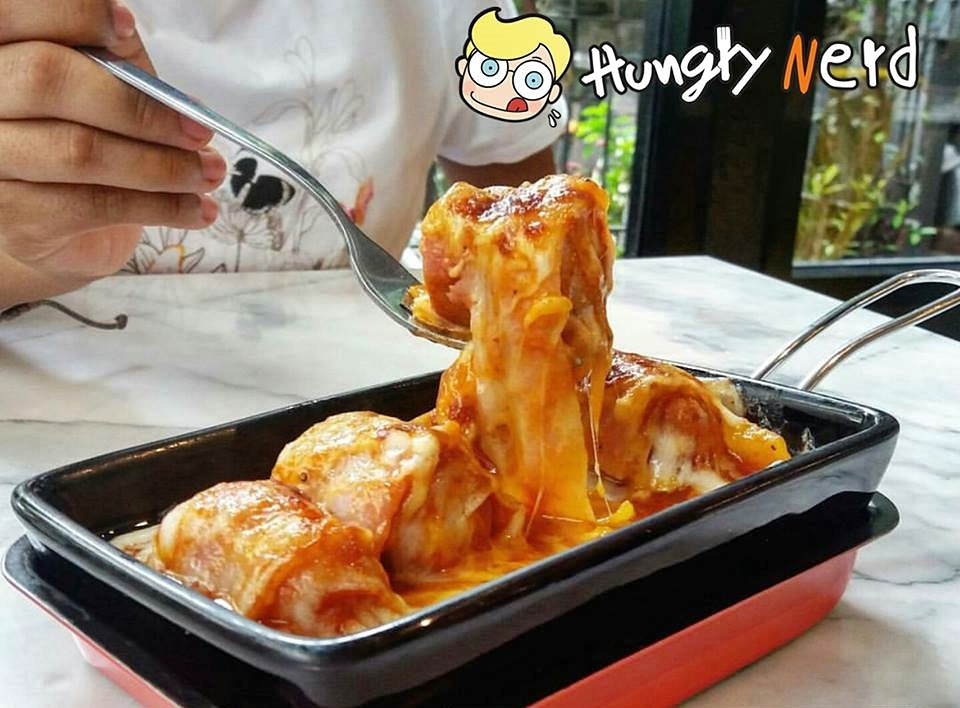 The food at Hungry Nerd
The food Hungry Nerd serves is very good, especially for the low prices.
Steak, their specialty dish, is the food of choice for many customers here, and there are cuts to serve all wallets and tastes.
Prices for their cheapest cut of steak start at 199 baht and go up to 359 baht for the better cuts of meat. Even at 359 baht ($10.25) though, the price for that size of steak and that cut is reasonable, and the meat itself is excellent.
Eat Sleep Bangkok ordered the Australian Striploin Steak, which I have also eaten in the past, and I'm with him when I say, at 299 baht (approximately $8.50), it's not only great value for money but, with its fries, salad and a thick slab of Thai cheesy bread, it's a decent amount of food and one of my favorite things on the menu.
Hungry Nerd also cooks your steak just as you request, and every time I have eaten there, both alone or with friends, my steak arrived perfectly cooked for what I wanted, as did theirs.
I also recommend their bacon wrapped sausages served with cheese. They are delicious and, at just 99 baht ($2.82) for four bacon wrapped sausages, a very very good price.
Hungry Nerd opens every day at 11:30am and is one of the easiest restaurants in Bangkok to find as it's right at the bottom of the steps leading down from Ratchatewi BTS station.
If you're still not sure how to get there, it's actually located at 328 Phayathai Road, Thanon Phetchaburi, Ratchathewi.
Look at the Google map below if you're not familiar with the area before setting off and, of course, watch Eat Drink Bangkok's excellent review video below that. You can find out more about them, and check out some yummy photos of their food,  on the Hungry Nerd Facebook page.