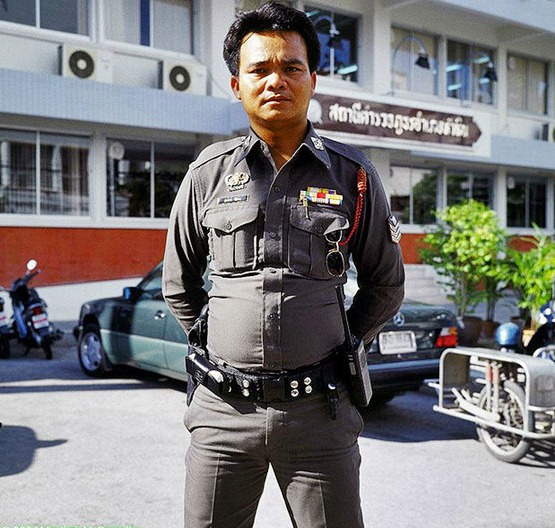 In Thailand Everybody Wears Uniforms And, Unlike Westerners, Thais Actually like Wearing Them
Wearing a uniform in Thailand is not like in most countries. In the West, because most Westerners embrace their individuality, uniforms are something to be avoided. In Thailand, uniforms are something that say you 'fit in', 'you're accepted', you are 'part of the group'. As Thais are brought up to consider the whole group rather than just themselves, wearing a uniform fits in with this ideal.
Thailand is also a country of rigid social hierarchy, so wearing a uniform lets people know where you and they stand in that hierarchy.
When I was teaching in Thailand, our uniform was either a dark skirt or trousers, a white or blue blouse, and low-heeled full shoes. Sandals were forbidden, unless they had a strap at the back and, even then, were frowned upon.
Apparently, a teacher is expected to dress a certain polite way in Thailand and showing your feet is not part of being 'polite'. Thai teachers accept this as normal but Western teachers teaching here often find it restrictive and annoying.
Related: What women should wear while teaching in Thailand
Uniforms are everywhere. From the Thai police wearing tighter than tight brown uniforms (they've got to be hot in this heat!), to doormen wearing a navy blue, black or brown uniform, to hotel doormen often wearing traditional Thai clothes – the Thai uniform is king.
Some Thai uniforms started out life as a traditional Thai costume, worn by workers in the rice fields. These indigo blue unisex moh hom suits (a jacket shirt and baggy short trousers) now can be seen all over Bangkok.
In the 1960s, one of the army rulers of the day introduced the safari suit for government officials, figuring it would be cooler than Western suit and tie for government office workers. After the introduction of air-conditioning in most of the nation's capital, most Thai office workers went back to Western dress – but only shirt, slacks and tie, not jacket!
You still see the safari suit though, as it's often worn by Thai taxi drivers, but now in the comfort of their air-conditioned car.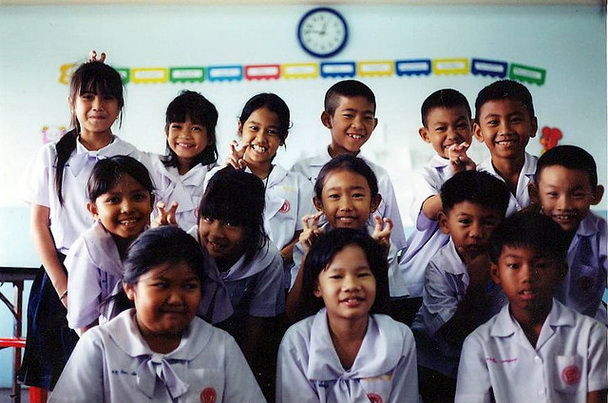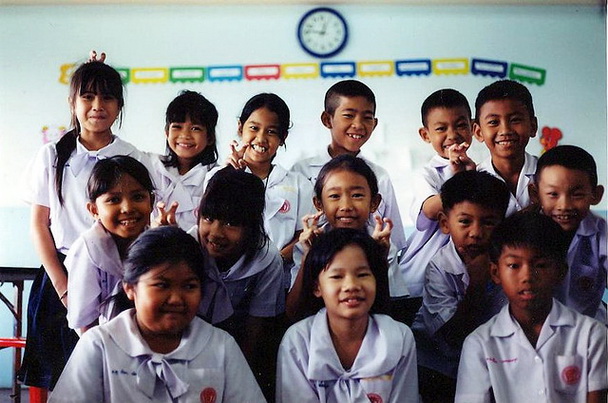 Uniforms in Thai schools
Thai students also have a set uniform. In primary school through high school, the students wear a white or light blue shirt and blue or black bottoms. The girls wear skirts that must hang below the knee and the boys wear long pants or shorts – you even see 18 year old boys still wearing the school uniform of knee-length shorts and white blouse. To a westerner, it looks a little odd. Like an overgrown 8 year old shoved into a grown man's body.
Surprisingly, this uniform carries on into university. In Bangkok, on any day of the week you will see droves of Thai female university students. They are all wearing navy blue or black skirts and white short-sleeved blouses.
In rebellion though, the girls often wear very short skirts sometimes with high splits up the back and tiny shirts that are so tight every button is straining with the tension.
The most interesting thing to me though is the Thai police uniform. These uniforms are either a dark brown or tan brown, and are probably some of the tightest clothes you will ever see on a human being. The clothes are so tight and so revealing that, for the last few years, every month the Thai police department gets hundreds of calls to its 191 emergency line where the caller leaves rude propositions for policemen.
There even used to be a website for photographs of 'sexy Thai policemen' but the government finally closed it down stating it was unbecoming for the country.
So if you like to wear a uniform, like to look at uniforms, or like your women or men in a uniform, they're all here in Thailand. Thailand really is a paradise for those who like to conform and for those who admire the uniform as social dress.