One of my Thai friends had been wanting me to go to Imoya, a Japanese restaurant in Bangkok, Thailand. My friend loves Japanese food and, since discovering Imoya, was so in love with the food and the atmosphere she begged me to go with her.
Finally, a few weeks ago, I succumbed (I'm also a lover of Japanese food) and we arranged to meet at Phrom Phong sky train station and travel to Imoya together from there. What first looked like a cute but unremarkable Japanese restaurant, once inside, beamed us back to 1950s Japan, and I immediately saw why my friend loved the place so much.
Location of Imoya in Bangkok – There are several Imoya branches in Bangkok, but one of the favorites is the restaurant on Sukhumvit, Soi 24, just a one minute walk from Phrom Phong sky train and behind Emporium Mall. The restaurant is on the third floor of a small building on your right hand side, so can be difficult to find for first-timers. You'll find other Imoya locations on Sukhumvit, Soi 53 and several in Chonburi.
The Atmosphere at Imoya – Above everything, Imoya seems to be popular because of the atmosphere. The owners have taken what was probably a boring concrete restaurant shell and converted it into a old-world restaurant Japanese friends tell me is like a typical Japanese 1950s noodle shop.
It's all wood, with a choice of small tables or, if you like Japanese style, separate partitioned sections where you can take off your shoes and sit on tatami mats at low tables on the floor.
Like many restaurants in Japan, when you walk in all the staff shout a greeting, so there's no arriving incognito here. It definitely adds to the fun of the place though.
The Food – The food at Imoya, to me, was not dissimilar to other Japanese restaurants in Bangkok. Compared to chain restaurants like Fuji, the menu is much smaller and so are the dishes, but prices are inexpensive so you can order a few to try. I actually enjoyed that, as it was a wonderful opportunity to eat lots of things from the menu.
The fresh sashimi is excellent as is the squid, a miso-style tofu soup delicious and, if you like fish, they have a couple of types of fish served Japanese style (ie: laid on a plate with a side bowl of rice) that are tasty. The noodles too, in a gravy with potatoes were so nice, I ordered a second bowl (well, I said servings were small).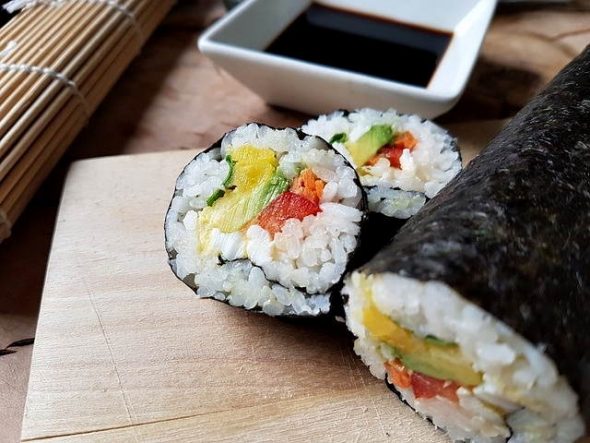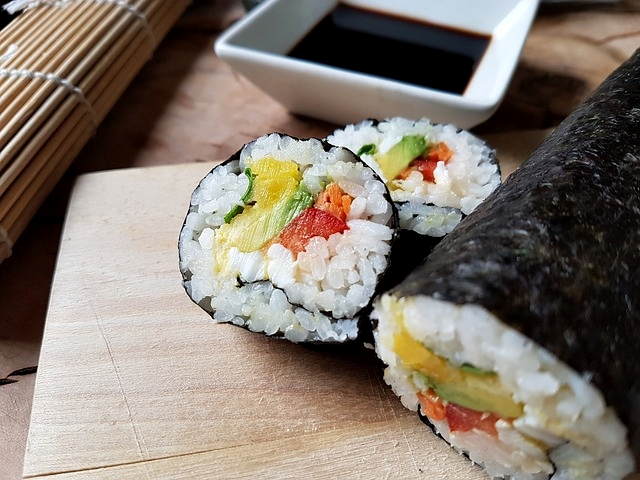 Also, don't miss sampling some of the sushi as it's very fresh and comes with a liberal amount of ginger, which I absolutely love. I recommend eating it with an order of Japanese salad.
As for beverages, they have a good selection of Japanese beers, hot and iced green tea, soft drinks and, of course, saki, the Japanese rice wine, which we couldn't resist.
Prices at Imoya are also reasonable. For several dishes, rice, soup and, of course, the saki, we walked out of Imoya having spent around 900 baht ($30), which for two of us for dinner was a good deal considering the quality of the food and the atmosphere.
If you decide to try Imoya, one recommendation is to either get there early or make a reservation. They tend to fill up quickly and so, the second time I ate there, my friend and I had a 45 minute wait. Not a big problem but if we'd called in advance, could have been avoided.
Imoya has also just been featured in a new Bangkok restaurant and shopping book, so expect them to become even more popular.