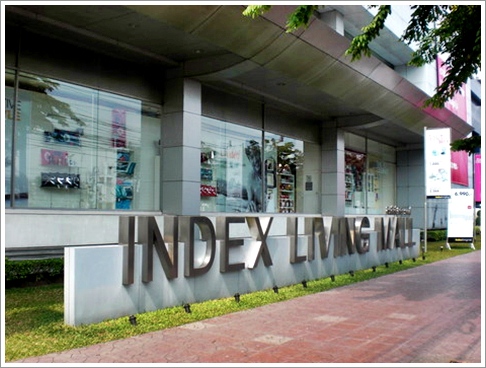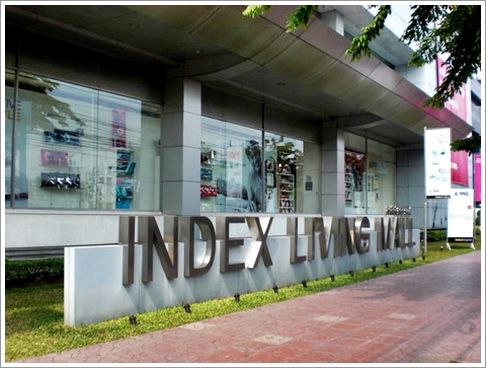 My favorite place to shop for household accessories and furniture in Bangkok, Thailand is at Index Living Mall. Index Living Mall is a concept mini mall with nine or ten branches around the city. Originally set up to sell Index furniture, in recent years the company has expanded, so that they now sell just about any kind of household product you want.
Not content to just be a mini mall for furniture and household items though, they also have a design studio and several of them even have a restaurant, coffee shop and bakery. In recent years, they've even expanded to become part of a 'lifestyle mall', with other stores, cafes and restaurants located next to them as a one-stop-shop location. In other words, they're awesome.
Where Is Index Living Mall? – When I first moved to Bangkok, there was only one Index Living Mall location at Future Park Rangsit. Soon after I arrived, Index opened a second Index Living Mall near my apartment on Pahonyothin Road and soon had several other locations open around the city. Today, there are nine or ten Index Living Mall locations in Bangkok, with more branches around Thailand.
What Does Index Living Mall Sell? – All Index Living Malls are extremely large venues. The location near my apartment is a two-storey mini mall that sells just about anything for the home you could possibly be looking for.
Departments include electrical lightning with lamps, electric lights and lighting accessories. Other departments have appliances, bedding, pottery and cutlery, curtains and pillows, rugs and carpets, and accessories (selling items like clocks, photograph frames, vases and other decorative pieces). There's an art and framing department, where you can get anything custom framed, and a large gardening department selling everything from pots and gardening tool, to wheelbarrows. These departments are just on the first floor, so you can imagine how big the place is.
On the second floor is their main furniture area, although you'll also find contemporary furniture on the first floor. In the main furniture department, Index has all the usual things – beds, side tables, wardrobes, coffee tables, sofas, chairs, reclining chairs, office furniture, filing cabinets and various accessories. There's also a massive kitchen and bathroom department, where you can buy kitchen cabinets, sinks, shower fixtures,  shower stalls and more.
On the second floor too, you'll find the design department. Should you decide to buy household fixtures or furniture at Index Living Mall a designer can work with you at no charge to ensure your room is designed exactly the way you want it, and that everything you are ordering is a perfect fit.
Selection and Styles at Index Living Mall – While most of their products are contemporary design, they do have an extremely large collection. You'll find minimalist, trendy, Asian-style, American-style, European-style furniture and accessories that suit every taste and every requirement, and in just about every color.
I bought my first sofa in Thailand at Index Living Mall and have been very happy with it. I've also purchased a computer desk, a chair and bookcases through them, not to mention the probably hundreds of accessories.
Prices – Prices at Index Living Mall are actually much cheaper than what you might expect. In fact, for the high quality of the products they sell, they're actually very cheap particularly as much of their inventory is imported and as designs are so unique and trendy, it's great to be able to find things you might not find anywhere else and so affordably as well.
The great thing about Index too is they have exceptional sales throughout the year, which is when I buy most of my purchases through them. During one of their sales, I've bought accessories for 100 baht ($3) that had been 700 baht ($21), bedding and sheets for 50% off regular price and recently even bought a new electric kettle for only 40% of the normal sticker price. The best way to shop at Index, is just keep checking for their sales and, when they have one, buy, buy, buy.
Your other option is to apply for their 'Joy Card'. It's an in-mall card that will give you 3-5% of every purchase, and special offers on lots of other items. The card is free, so well worth applying for.
Eating at Index Living Mall – Another nice thing about Index is they often have coffee shops or restaurants attached to the mini mall so you can take a break and grab a coffee or lunch. The location on Pahonyothin Road has a very nice branch of Black Canyon Coffee, which is busy most of the time, with many customers coming in just for the food and not even to shop at Index.
At Black Canyon there's a good selection of menu items – sandwiches, salads, pasta, spaghetti, Thai dishes – and lots of iced and hot drinks – lattes, green tea shakes, fruit shakes, hot tea etc. Also, as prices are cheap, you can get away with 100 baht ($3) for an iced coffee and a meal. The perfect way to enjoy a day of furniture shopping.