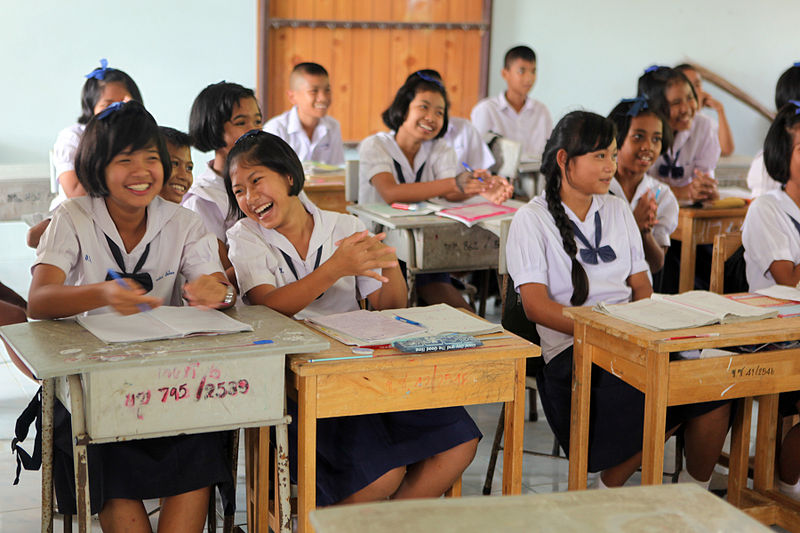 Is a TEFL Certificate Necessary for a Teaching Job in Thailand?
As a former English teacher in Thailand, I have always recommended any new teacher arriving in the country should get a TEFL certificate before they look for a job, So, I'm still astounded by the amount of people I meet who seem to think they don't need one.
In fact, the only question they usually ask is "Do you need a TEFL certificate to get a work permit for a teaching job in Thailand, or can I get a job without one?"
If you too are of that mindset, here is what you need to know about getting a teaching job in Thailand, with or without a TEFL certificate.
Do you need a TEFL certificate to get a work permit for a teaching job in Thailand?
Under the latest Thai Ministry of Education rules for foreign teachers in Thailand, no, you technically do not need a TEFL certificate to get a work permit for a teaching job in Thailand. You also do not need one to apply for and get a teacher's license or a non-immigrant B visa.
What you do need, however, is a legitimate university degree (a fake degree could land you in a Thai jail if you are caught using one), as well as being a native English speaker from the UK, Ireland, USA, Australia, NZ or Canada in most cases. If you are not, you will also need to have taken a TOEIC exam and have a score of over 600 points before any work permit will be granted.
However……..you do need a TEFL certificate for most jobs
While the Thai Ministry of Education and Thai government is not mandating TEFL certification yet, the vast majority of schools in Thailand are requiring their teachers to have them. In fact, every school I've ever worked at would not hire teachers who were not TEFL certified.
That means, even though the government is telling you that you don't need to worry about getting TEFL certified, at least 80 percent of the legal jobs in Thailand ('legal jobs' meaning jobs with a work permit and teacher's license) will be given to teachers that are TEFL certified.
To check this fact, just look at the jobs currently advertised on Ajarn, Thailand's largest website for teachers, and many schools are asking for a TEFL certificate. Even if they're not, if you interview along with several other teachers with TEFL certification, in most cases you will automatically be put at the bottom of the pile and a teacher with a TEFL certificate will be hired.
Do you know how to teach?
One of the most important reasons you need TEFL certification, however, is the answer to this question – Do you know how to teach? Too many westerners arrive in Thailand believing, just because they are a native English speaker, they can teach other people how to speak English.
Once in the classroom, however, they don't know how to put together an appropriate lesson plan, have little or no classroom management skills, don't understand the two main EFL teaching methods or how to teach different levels of ability.
A TEFL certification course teaches you all this, plus much more and, if you don't know how to do any of them, you are short changing your students and their parents who are often paying money they can ill afford so their children can learn English.
So, no, while the Thai Ministry of Education does not (as yet) require you to have TEFL certification to get a work permit for a teaching job in Thailand, that doesn't mean you shouldn't get it.
In fact, anyone who is serious about teaching in Thailand will either take a TEFL certification course before they arrive, or sign up for one in Thailand. Many schools offer them, and some even teach you specifically how to teach English to Thais.