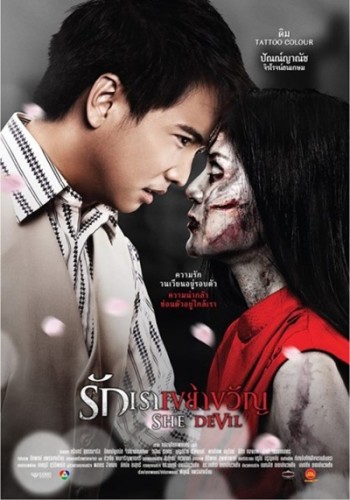 Thais love their horror movies, as anyone who has been to a movie theatre in Thailand can probably tell you, and the scarier and bloodier the better. This month there's a new Thai horror movie out – Rak Rao Kha Yao Kwan or She Devil – and let me just say, after seeing the movie yesterday, I can categorically say it's even scarier than even the official Rak Rao Kha Yao Kwan video trailer suggests. Much scarier.
Rak Rao Kha Yao Kwan stars Fandee Chanyathanakorn and Harin Suthamjarus and was directed by Pisut Praesangeam, the same guy who directed Bangkok Haunted, one of my favorite Thai horror movies.
I'm not going to give away the storyline, but I'll just say from a cursory watch of the trailer below you'll have a pretty good idea of what happens and why the lovely bride in the beginning scenes of the movie might just be a 'She Devil'.
You can see Rak Rao Kha Yao Kwan at movie theatres all over Bangkok at the moment including at most Major Cineplex branches and at SFX. Go see it, if you enjoy a good scare. It scared the pants off me.