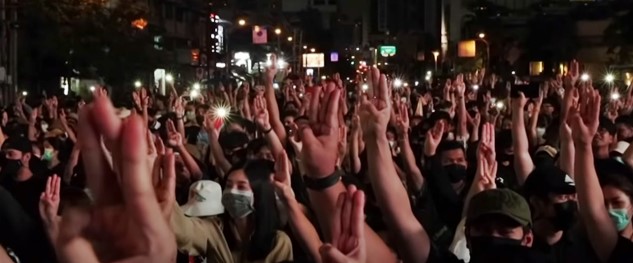 With the Thai government of Prayut Chan-o-cha now banning large gatherings as of yesterday, there have been questions on social media and in the news media today about the planned Sunday, July 18th protest in Bangkok.
A protest against the government of Prayut Chan-o-cha that was organized before the ban on assembly came into effect, and one that is expected to draw a large number of people.
Will the Sunday, July 18th protest in Bangkok go ahead despite the ban on assembly? Or will it be postponed, and rescheduled for a different day?
Why are protestors demonstrating in Bangkok?
The planned Sunday, July 18th protest in Bangkok is one of a long line of demonstrations anti-government activists have planned in the last few months.
The latest anti-government protest in Bangkok has demands similar to the others:
Protesters are demanding the resignation of Thai Prime Minister Prayut Chan-o-cha.
They are angry at both the abysmal vaccine rollout in Thailand, and the types of vaccines being used.
They are also angry at the Covid-19 restrictions. Particularly as the government has implemented restrictions, but has not followed up with the appropriate financial aid for the millions of Thais that are suffering financially because of them.
Will the demonstrators protest on July 18th in Bangkok?
Not only are anti-government protests still organized for tomorrow in Bangkok, smaller protests are also expected in other cities in Thailand.
According to protest organizers, even though the Thai government has now banned public assembly nationwide, protest organizers are still saying the protest will go ahead as scheduled.
Even if they are fined or jailed, most protesters still plan on being at tomorrow's protest, as they believe so strongly in what they are fighting for.
Anger against the Thai government due to lockdowns and other Covid-19 restrictions, the lack of proper financial aid to those Thais who desperately need it, and the Thai government's abysmal handling of vaccine appropriation, are all fueling these protests.
As the Covid lockdowns, mandatory masks, and vaccine shortages continue, these protesters could get larger and angrier.
As it stands at the moment, however, the July 18th protest in Bangkok is expected to go ahead as planned.