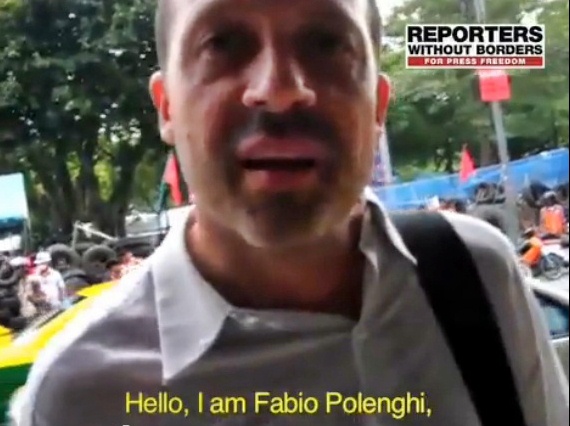 On Wednesday, a criminal court in Thailand ruled that an Italian journalist was killed by the Thai military — something that many in Thailand already knew.
After all, when the Thai government of Abhisit Vejjajiva not only protected the soldiers involved, but was also instrumental in trying to cover up the murder afterwards, many people believed it must have been hiding something.
The incident in question took place in Bangkok during anti-government protests in May, 2010.
The Italian journalist, Fabio Polenghi, was taking photographs of Thai soldiers trying to disperse protesters who had been camped out in the center of Bangkok for several months when, under orders from then prime minister Abhisit Vejjajiva, the soldiers began to shoot at the civilians protesting.
Almost 100 people were killed in the incident, including Fabio Polenghi. The government and the military then denied any involvement, saying he must have been shot by one of the civilians involved in the protests.
That story, however, has been proven incorrect now that the Southern Bangkok Criminal Court has ruled Polenghi was definitely shot and killed by a military issue bullet — a high velocity bullet likely from something like an M-16.
Shot and killed, I might add, while he was seen running away from the scene.
Two other foreign journalists were also shot that day but, fortunately, survived. One of them, Bradley Cox, always maintained it was the Thai military that shot both himself and Polenghi, as he saw where both bullets originated.
Chances are, however, the true circumstances of Fabio Polenghi's death would never have come to light it it hadn't have been for international pressure on the Thai government and for his sister, Elisabetta Polenghi.
She traveled to Thailand several times over the last three years in an attempt to get government officials to open the case, so that she and her family could get to the bottom of what happened. She was also convinced the military had killed her brother, as she had spoken to several people who had witnessed it.
Luckily, the Southern Bangkok Criminal Court metes out justice just like any criminal court in the west would and, once all the evidence had been presented, including forensic evidence about the military issue bullet found in Fabio Polenghi's body, there really was no other ruling to be made.
Of course, this being Thailand, there is virtually no chance anyone will be punished for this crime as the military is always protected, often at great cost to human rights.
But at least with this verdict a message has been sent to Thailand's military forces — if you kill a foreign journalist, chances are international pressure will descend upon you like a ton of bricks and will not stop until a court rules fairly.
The case, however, is still not over.
According to their lawyer, the Polenghi family now plan on pursuing a case against then prime minister Abhisit Vejjajiva and his deputy Suthep Thaugsuban, as both of them are believed to have been involved in ordering the crackdown and so, the Polenghi family says, are ultimately responsible for the lives lost.
The video below is Fabio Polenghi talking about reporting on the anti-government protests in Thailand just a few days before he was killed.