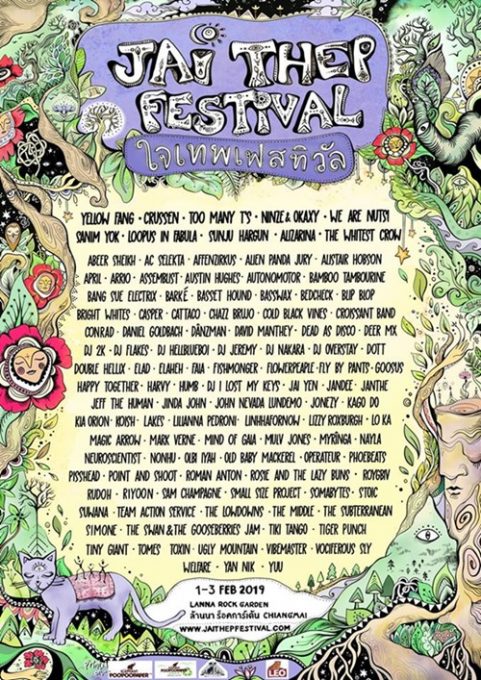 Jai Thep Music Festival 2019 lineup has almost 100 artists
The fourth annual three-day Jai Thep Music Festival in Chiang Mai announced its lineup yesterday, and it is massive.
All of the more than 100 artists are confirmed, and are both Thai and international — and from just about all music genres.
There will be four stages at the event, including one stage for comedy performances and spoken-word artists. There is no age restriction, and the entire festival is family-friendly.
Headliners of the festival include:
Yellow Fang (an indie trio from Bangkok),
Crussen (a Norwegian electronic DJ),
Too Many T's (a London-based hip hop duo),
Ninze & Okaxy (a ketapop duo from Leipzig),
We Are Nuts! (a German bass house band),
Sanim Yok (a Thai blues/country/folk/reggae band),
Loopus in Fabula (an Italian DJ),
Sunju Hargun (a Thai electronic house/techno DJ),
Alizarina (French ethno-techo artist )
and Thai indie rock band The Whitest Crow.
Tickets for the Jai Thep Music Festival
If you would like to hit all three days of the Jai Thep Music Festival, general tickets are 2,200 baht. Student passes are 1,600 baht.
If one day is more your speed, you can expect to pay 900 baht. Camping at the festival's camp ground is an extra charge.
All tickets are available through Ticketmelon.
The Jai Thep Music Festival will be held from February 1st to the 3rd at the Lanna Rock Garden in Chiang Mai.
Keep up to date with all the expected happening at the Chiang Mai festival on their Facebook page.
Links to websites or social media of every artist performing at the Jai Thep Festival are below:
🔥Yellow fang
🔥Crussen – https://soundcloud.com/crussen
🔥Too Many T's – https://soundcloud.com/too-many-ts
🔥NINZE & OKAXY – https://soundcloud.com/ninzeokaxy
🔥WE ARE NUTS – https://soundcloud.com/wearenuts1
🔥SANIM YOK – https://soundcloud.com/sanim_yok
🔥Loopus in Fabula – https://soundcloud.com/loopus-in-fabula
🔥Sunju Hargun – https://soundcloud.com/sunjuhargun
🔥Alizarina – https://soundcloud.com/alizarinamusic
🔥The Whitest Crow
🔥Abeer Sheikh (Abeers Music) – https://soundcloud.com/abeersheikh
🔥AC Selekta
🔥AFFENZIRKUS – https://soundcloud.com/lukas-bodmann
🔥Alien Panda Jury – https://soundcloud.com/anaasir/sets/mandal-ep
🔥Alistair Hobson – Music and Sound Design
🔥April (Puretek) – https://soundcloud.com/djapril
🔥ARRIO – https://open.spotify.com/album/4GSmGNiB1N8AQFl5CDg7jT
🔥Assemblist – https://soundcloud.com/assemblist
🔥Austin Hughes – https://www.youtube.com/watch?v=OT5KElhZlug
🔥Autonomotor – https://www.mixcloud.com/…/guest-mix-177-autonomotor-16-03…/
🔥Bamboo Tambourine
🔥Bang Sue Electrix
🔥Barké – https://soundcloud.com/slicey22
🔥Basset Hound Band
🔥Basswax
🔥Bedcheck – https://www.mixcloud.com/bedcheck/
🔥Blip Blop
🔥Bright Whites – https://soundcloud.com/jon-massmann
🔥Casper (Puretek) – https://soundcloud.com/dj_kasper-1
🔥Cattaco – https://soundcloud.com/cattaco
🔥CHAZZ BRUJO
🔥Cold Black Vines
🔥Croissant Band
🔥Conrad – https://www.mixcloud.com/conradolende/
🔥Daniel Goldbach
🔥DANZMAN
🔥David Manthey
🔥Dead As Disco
🔥Deer Mx
🔥DJ 2K
🔥Dj Flakes
🔥DJ Hellblueboi – https://www.mixcloud.com/DJ_…/dj-hellblueboi-mental-massage/
🔥DJ Jeremy – https://www.mixcloud.com/terracosmic/
🔥Dj Nakara – https://soundcloud.com/dj_nakara
🔥DJ Overstay – https://www.mixcloud.com/Fauxshow
🔥DOTT – https://soundcloud.com/dogsontheturns
🔥Double Hellix – https://streamable.com/t03ra
🔥Elad – https://soundcloud.com/justelad/
🔥Elaheh
🔥Faia – www.soundcloud.com/faia
🔥Fishmonger
🔥Flowerpeaple
🔥Fly By Pants – https://www.facebook.com/flybypants/
🔥Goosus
🔥HAPPY TOGETHER
🔥Harvy – https://www.mixcloud.com/harvyabdurachman/
🔥Humb – https://soundcloud.com/humb
🔥DJ I Lost My Keys – https://soundcloud.com/spacetoy
🔥Jai Yen ใจเย็น
🔥Jandee – https://soundcloud.com/dj-jandee
🔥Janthe – https://soundcloud.com/janthejanthe
🔥Jeff the Human – https://soundcloud.com/the-human-jeff
🔥JindaJohn
🔥John Nevada Lundemo
🔥Jonezy
🔥KAGO DO
🔥Kia Orion – www.orionbeats.com
🔥Koish – https://soundcloud.com/koish-music
🔥Lakes – https://soundcloud.com/lakesbandhanoi
🔥Liuanna Pedroni
🔥LinhHaForNow – https://soundcloud.com/linhha
🔥Lizzy Roxburgh
🔥LoKa – https://www.facebook.com/LoKa-207131249825857/
🔥Magic Arrow – https://www.facebook.com/Magicarrowofficial/
🔥Mark Verne – https://www.facebook.com/markvernemusic/
🔥Mind of Gaia – https://soundcloud.com/mindofgaia
🔥Mulv Jones – https://soundcloud.com/mulv-jones
🔥Myringa – https://soundcloud.com/hannahcohensets/numero-uno
🔥Nayla – https://soundcloud.com/naylabeats
🔥Neuroscientist – https://soundcloud.com/electro-mass
🔥NonHu – https://soundcloud.com/nonhu
🔥Olbi Iyah – https://soundcloud.com/olbi-iyah
🔥Old Baby Mackerel – https://www.facebook.com/oldbabymackerel/
🔥Operateur – https://operateur.bandcamp.com/
🔥Phoebeats – https://www.facebook.com/suwana.arcana/
🔥Pisshead – https://soundcloud.com/dangmopisshead
🔥Point and Shoot – https://soundcloud.com/point-and-shoot
🔥Roman Anton
🔥Rosie and the Lazy Buns – https://www.facebook.com/rosieandthelazybuns/
🔥roygbiv – https://soundcloud.com/roygbiv6
🔥Rudoh – https://soundcloud.com/rudoh/come-to-my-mind
🔥Riyoon – https://soundcloud.com/riyoon
🔥Sam Champagne – https://www.mixcloud.com/sam-champine/
🔥Small Size Projects – https://www.facebook.com/Small-Size-Projects-1417777841688…/
🔥Somabytes – https://soundcloud.com/somabytes/tracks
🔥STOIC – https://www.facebook.com/stoicthailand/
🔥Suwana – https://www.facebook.com/suwana.arcana/
🔥Team Action Service – https://soundcloud.com/actionservice
🔥The Lowdowns – https://www.facebook.com/thelowdowns/
🔥The Middle – https://youtu.be/xOTsDLRbUdY
🔥The Subterranean
🔥Simone
🔥The Swan and The Gooseberries Jam – https://www.facebook.com/swanandgooseberries/
🔥Tiki Tango – https://soundcloud.com/tikitango
🔥Tiger Punch – https://www.youtube.com/watch?v=lbdK2dOM7LE&feature=youtu.be
🔥Tiny Giant – https://www.facebook.com/tinyhanoigiant/
🔥Tomes – https://soundcloud.com/j-tomes
🔥Toxin – https://www.mixcloud.com/Mal_di_ny/uploads
🔥 Ugly Mountain – https://www.facebook.com/uglymountain/
🔥Vibemaster – https://soundcloud.com/vibemaster
🔥Vociferous Sly – https://soundcloud.com/vociferous-sly
🔥Welfare – https://www.facebook.com/welfarebeats/
🔥Yan Nik – http://www.yan-nick.com
🔥Yuu – https://www.facebook.com/293623017638194/videos/539290529738107/