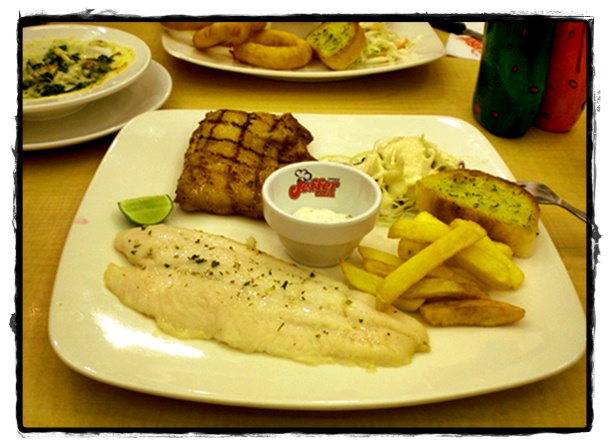 Jeffer Steak is an inexpensive restaurant chain in Bangkok, Thailand that's known for its cheap steak, burgers (both pork and beef) chicken and fish. With prices as low as 89 baht ($3) for steak and a baked potato, Jeffer Steak is incredibly popular with Thais who love a bargain. But is it worth eating there? In my opinion, no, it's not.
Jeffer Steak specializes in serving steak, burgers, chicken and fish with basic side dishes. Prices start as low as 69 baht ($2.30) for a piece of battered fish served with French fries. Other dishes include battered fish, a piece of grilled chicken and French fries for 89 baht ($3), grilled chicken and a piece of grilled dory (fish) with French fries or onion rings for 89 baht ($3) and a pork steak with French fries or onion rings for 99 baht ($3.40). The problem is, the food at Jeffer Steak may be cheap, but it honestly doesn't taste particularly nice.
I was at Jeffer Steak last week with a Thai friend for lunch and we both started off by ordering a pork burger. Ten minutes later, the waiter returned to tell us they were completely out of burger buns so having a burger was impossible that day. Now you tell me, how does a restaurant that specializes in burgers manage to run out of burger buns? The mind boggles.
So we changed our order and decided on grilled chicken and grilled dory. I ordered French fries with mine and my friend had the onion rings.
Both meals arrived at the same time but what we were then flabbergasted about was, in a restaurant with only three other tables occupied (we arrived about 30 minutes before the regular lunch time), how was it possible to end up with freezing cold French fries and onion rings?
As for the chicken and the fish? The chicken was obviously processed so tasted slimy and strange. It was also undercooked, so pink in the middle. The dory was also processed and looked reconstituted, as well as being rubbery and slimy (yes, that is possible). Both the chicken and the fish were quite tasteless. My French fries, as well as being cold, were also dry and had no flavor, My friend said her onion rings were completely inedible as cardboard tasted better than they did.
The staff at Jeffer Steak are friendly and helpful. The location we ate at (Major Ratchada in northern Bangkok) was clean, and the service was quite good. But, although $3 for a meal might be cheap in the US or Europe, it's not overly cheap in Thailand. Not when you can buy a meal at a street side stall anywhere in Bangkok that is made from fresh ingredients, not processed, and far tastier than anything we ate at Jeffer Steak for just 40 baht ($1.30).
I've now eaten at Jeffer Steak three times and, while my meals were not the worst I've eaten in Bangkok, they were so far from the best I'm not likely to eat there again. You, of course, might feel differently.
Meanwhile, here's another review of Jeffer Steak, this time for their burgers and, like me, the reviewer at Bangkok Burger is also recommending if you like good food "find another destination".