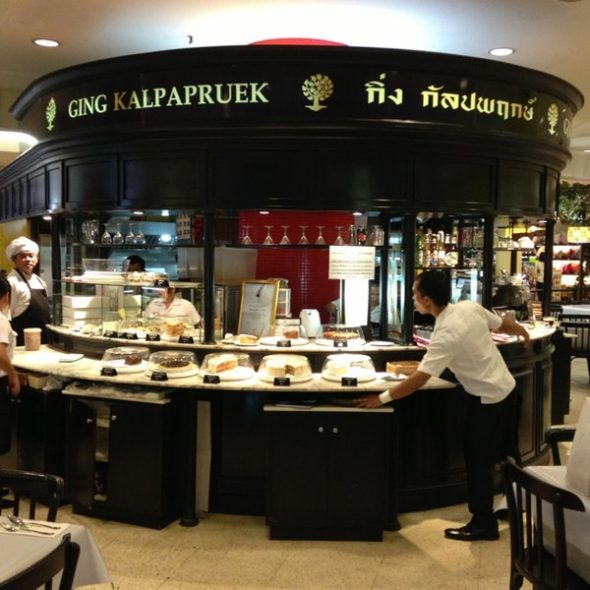 When I first moved to Bangkok, Thailand I used to spend a lot of time eating alone. Not having many Thai friends at first, I gravitated to Emporium Mall in downtown Bangkok, a place full of excellent restaurants and cafes.
After only a couple of weeks, one restaurant, Kalpapruek on First became my favorite eatery in Bangkok.
So much so, in the years since, even though I sometimes move away from it in favor of one of Bangkok's other amazing eateries, I always end up going back as Kalpapruek's food, atmosphere and staff really are that perfect.
What Is Kalpapruek? – Kalpapruek is a chain of independently-owned Thai cuisine restaurants that serve an incredible mix of traditional Thai and modern fusion food. There are several branches around Bangkok, with the three most popular being Kalpapruek on First at Emporium Mall, Ging Kalpapruek in the basement of the exclusive Siam Paragon mall, and the original Kalpapruek restaurant in a gorgeous house on Silom Road.
Thereis also a new branch of Kalpapruek at Crystal Design Center (see above photo).
Starting out years ago serving 'royal palace Thai food', Kalpapruek branched out to its present day massive menu and is now one of the trendiest and most popular restaurants in Bangkok. At any time of the day, you will find Bangkok hi-sos (high-society types) mixing with middle-class Thais and foreigners eager to eat good Thai food, and at locations like Ging Kalpapruek on the weekend, you may have a wait.
It is a superb place to try lots of different items, as their menu is huge, and if you love dessert Kalpapruek has the best.
The Atmosphere at Kalpapruek – As any Thai will tell you, the atmosphere is lovely at every Kalpapruek as they make an effort to provide a quiet, serene place to eat, with excellent service and a pretty design.
But, the Kalpapruek branch everyone agrees is the loveliest one of all is the original Kalpapruek in the Silom area of Bangkok. Hardwood floors, gorgeous chic design, comfortable chairs, bright open spaces, and all in a pretty old Thai building. This location is so popular, they even had to open an annex building a couple of years ago to accommodate the crowds.
The Food, The Food, Oh, The Food – Now, in recent years I have become a big fan of Thai food. Lucky really as I live in Thailand.
But I don't think there's a restaurant in Bangkok serving Thai cuisine that can beat Kalpapruek. As I mentioned, the menu is large with everything from traditional Thai favorites like Kanom Jeen (noodles with a spicy, sweet sauce served with fried veggies), Isaan food (northern Thai), spicy catfish, roti, duck salad, various spaghetti dishes, papaya salad, fish dishes, curry dishes, pork and on and on.
In many years of eating at Kalpapruek, I have never had a bad dish and many have been the best versions of typical Thai food I have ever eaten.
Kalpapruek is also famous for its desserts, of which there are many. In fact, I can't go on enough about their lemon meringue pie, chocolate cake, and apple pie with blueberry compote and caramel.
The prices too at Kalpapruek are reasonable, particularly for the quality of food, the service and the delightful atmosphere.
Most visits, I get out having spent less than 500 baht – $16 – (including tip), and for this caliber of restaurant for a main dish, a dessert and a drink, that is a steal.