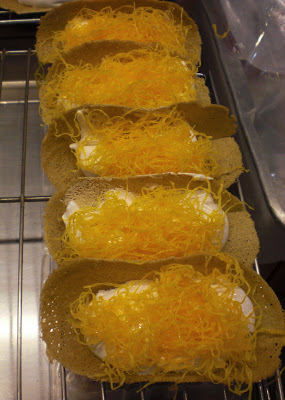 One of my favorite snacks in Thailand is kanom buang. It's something that looks like a taco, but doesn't taste anything like it.
You will see kanom buang all over Thailand, usually being cooked on stalls at the side of the road, and although they look like a taco they are actually a sweet dessert or kanom, as the Thais call them.
You can eat them hot or cold but they are even more delicious right off the griddle, when the coconut cream and shredded coconut is melting and gooey.
Kanom buang consists of a very thin batter which is cooked on a large hot plate.
Once the batter is partially cooked, the seller will add coconut cream (which is the white stuff you can see in the photos). On top of this goes one of several toppings – my favorites are the yellow ones (top photo), which is shredded coconut and egg yolk. These are very sweet and tasty.
 These have coriander and chopped onions on top of shredded coconut
The others, the orange ones, are shredded coconut but this time with coriander and onions. These have an interesting sweet and savory combination, which is actually quite pleasant as the coriander and onions tames the excessive sweetness a bit.
Kanom buang are a must-eat in Thailand, particularly as they are so cheap.  Prices are normally around 5 baht (14 cents) each, or six for 25 baht (82 cents), and the seller will put them in an open box and then in a small plastic bag, so you can carry them home and share.
Honestly, though, you really should eat them while they are still warm, as they taste even better that way.