On several trips to Chiang Mai, Thailand, I have been privileged to be invited by Thai friends to attend a traditional Kantoke Dinner. A Kantoke Dinner is a traditional northern Thai meal, served on low tables (called 'kantokes' in Thai), and including a Thai cultural show featuring dancers and musicians.
One of the best values of any tourist attraction in Chiang Mai, they really should be a must for any visitor wanting to enjoy a typical festive Thai meal while learning something about Thai culture.
In fact, next time you are in Chiang Mai and thinking of signing up for a Kantoke Dinner, here is what you can expect and why you should go.
How to Book a Kantoke Dinner – Every travel agent in Chiang Mai and most of the hotels offer Kantoke Dinner packages. If you are on an organized tour of Thailand and in Chiang Mai, your tour group will probably already include one.
If it doesn't, any travel agent in the city can book one for you. With prices starting as low as 500 baht ($16.50) for transportation, meal and a traditional Thai show, they are absolutely the best deal in town.
Where Are Kantoke Dinners? – Kantoke Dinners are only offered in the north of Thailand and primarily in the Chiang Mai area. They take place slightly out of Chiang Mai, in special venues and halls set up for the occasion. They're often in buildings that are beautifully designed and made out of teak, with traditional Thai handicrafts dotted around for decoration.
Some are even open to the air, with fans blowing to keep you cool. Kantoke Dinner packages will include a bus or van pick up at your hotel around 6pm and transportation to and from the dinner.
What To Expect at a Kantoke Dinner – After a few minutes ride out to the Kantoke venue, on arrival you will be shown to a table along with around 30 other people. Kantoke tables are usually long and seat at least 30-40 people.
They are low down to the floor with cushions placed around them as seats. (If you have trouble getting down to a low level or you might have difficulties getting up, there will be a few higher tables around the edges of the room where you can sit). Looking around, you'll see 300-500 other people in the hall with you.
Once everyone is seated, the meal and drinks will arrive. Usually brought on bamboo Kantoke trays, the Kantoke meal is comprised of several dishes set out in small bowls on top of the tray. The tray itself is on a small stand, which swivels so you can reach the dishes on the other side of the tray.
Food includes soup, sticky rice, plain rice, a spicy pork dish similar to 'larb', fried chicken, some type of curry dish, a plate of raw sliced vegetables, Nam Prik (a traditional Thai spicy chili dip) and pork skins. You will be expected to eat the meal with your hands – picking up scoops of rice or vegetables and dipping them in the other dishes to eat – although they will bring utensils if you really want them.
Drinks will usually be water, green tea, jasmine tea, chrysanthemum tea or fruit juices.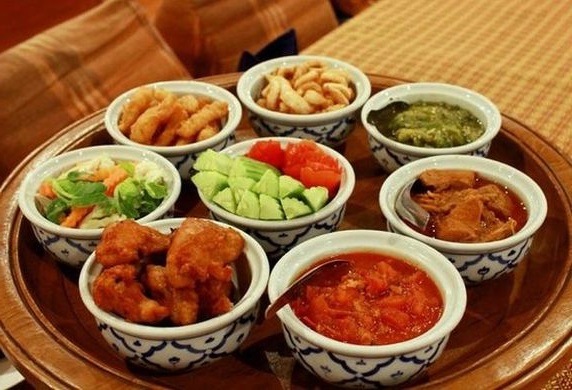 The Kantoke Dinner Show – Once everyone has been served and is eating, the dinner show will begin. First, a classical Thai orchestra begins to play classical Thai music. Here you'll see instruments you've never heard or seen before.
After the first strains of music, traditional Thai dancers dressed in elaborately embroidered and jeweled costumes will appear and begin to dance. Dances will vary from the typical Fingernail Dance (dancers wear long jeweled golden fingernails) to mask and drum dances. There's also a Sword Dance, which begins as a dance and transposes into a sword fight using old-fashioned Thai swords.
At the end of the show, the Kantoke Dinner always finishes with a Circle Dance where, after an initial demonstration, everyone in the audience is invited to join in to finish off the evening.
A typical Kantoke Dinner takes around two and a half to three hours from your hotel and back. After the dinner, you will be taken back to your hotel to enjoy the rest of your evening. Exhausted, full and very happy you got to see such a fun show.