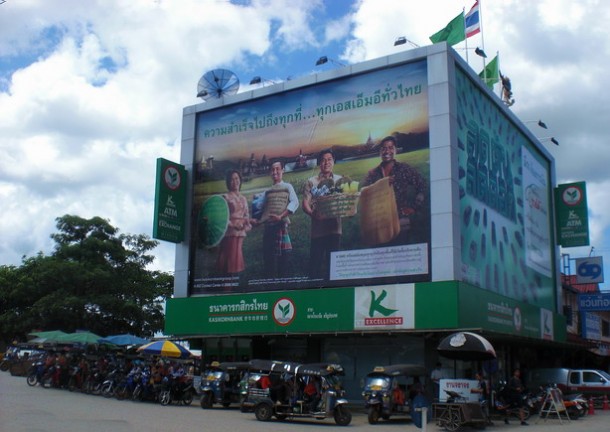 Last year, tired of the poor service of my usual Thai bank, I opened an account at Kasikorn Bank. Everyone at my last job had Kasikorn Bank accounts and not one person had anything bad to say about them. So, choosing Kasikorn over other Thai banks was a logical decision. After almost a year of having a new account with them, I know now I made the right decision and here's why.
Opening an Account at Kasikorn Bank – I opened my new account at a Kasikorn Bank branch near my home. In Thailand, any bank business you do has to be done at the branch you opened your account at. If you need a new ATM card, want to apply for a credit card or any other more complicated business you can't do it at just any bank branch, you have to go back to the branch you opened your account at. That's why it pays to open an account near your home, office or place you go frequently.
I opened my account at the Kasikorn next to my local supermarket. I'm there several times a week, so it made that branch convenient. Opening the account was as simple as walking in, sitting down at the "New Accounts" desk and handing over my passport, work permit and cash deposit. (You have to have a work permit, retirement visa or other legal visa to show you are legally in Thailand, or the bank won't allow you to open an account). In fact, getting a new account at Kasikorn Bank took less than 10 minutes, from start to finish, as the staff was efficient and fast.
Service at Kasikorn Bank – Since I opened my account, I've applied for a credit card (and got it), paid my cable bill and my internet bill there, and made several large deposits. With every one of these transactions, I've literally walked in, straight to an available cashier, and conducted my business in five minutes or less. No long lines, no waiting and lots of attention and smiles from the bank staff. Even the assistant standing at the door has had my queue number in his hand to give me as I'm walking in, even though I never need it as there's never a queue.
Staff at Kasikorn Bank – Like most banks in Thailand, the staff at my branch of Kasikorn speaks only minimal English. In the tourist areas, you're likely to get staff that have higher English skills but in local Bangkok neighborhoods don't expect to be able to hold a long conversation unless you speak Thai. I speak Thai so, for me, that's not a problem.
If you don't, you might want to consider opening an account at a Kasikorn Bank branch at Siam Paragon, MBK or Central World Plaza as the English skills of the staff will be better.But, the staff at every Kasikorn Bank I've frequented in the last few months has been fast, efficient and extremely pleasant, professional and friendly. I wait far less at Kasikorn bank branches than I do when I use my other bank accounts with Bangkok Bank.
Bank Branches and ATM Machines – Another reason I love Kasikorn is they have bank branches and ATMs everywhere. With over 300 branches in Bangkok, every mall has a Kasikorn Bank branch, the office building I used to work in has a branch as does the building next to my local supermarket.
If you're looking for a Kasikorn Bank branch, you'll find them at Central Ladprao Mall, MBK Mall, Siam Paragon Mall, Central World Plaza, The Avenue at Ratchayothin, The Mall Bang Kapi and many more places.ATM machines too are everywhere and, unlike other banks that seem to often be out of money or not working, Kasikorn Bank's ATMs always have money in them and always work. In six months of having an account, I've only found one ATM machine that was out of money and that was at Chatuchak Market, which on a Sunday is the busiest place in Bangkok, so not surprising.
Since I opened my account at Kasikorn Bank, I couldn't be happier. I love the staff, the service is excellent and getting things done is easy. Kasikorn Bank also has online banking and a very good website (in English and Thai), so if you need to do anything online that's easy too.