KFC home delivery in Bangkok is convenient, fast and cheap
I don't eat fast food in Thailand very often. Neither do I use home delivery services, as it's easy enough to walk out of my front door and get food at a nearby food stall. But, I do occasionally order KFC home delivery in Bangkok, as their delivery service is covenient, it's cheap (just 40 baht or $1.12 delivery fee) and it arrives at my front door in just a few minutes. Great when I'm hungry and too lazy to cook.
So why is KFC home delivery in Bangkok so awesome, and why is it one of the best fast food home delivery services in the capital?
KFC's online menu is in English
In this day and age and in a city this cosmopolitan and this massive, you would think having an online menu for home delivery in English would be a given. It's not. In fact, some of the biggest fast food companies in Bangkok still haven't managed it, and it's 2015.
KFC, however, has their entire menu in either Thai or English, so it's easy to order exactly what you want and be able to read what each option comes with.
KFC in Bangkok offers fast service
Sure, there's a KFC only half a mile from my house, but I'm still amazed at how fast my food arrives. Always in less than half an hour and, in some cases, 20 minutes or less.
KFC in Bangkok has a huge menu
While some fast food places in Bangkok have a limited menu when it comes to home delivery, KFC's menu in Thailand is huge. They deliver everything from promotional items like Spicy Lime Crispy Chicken Rice (currently 60 baht or $1.80), to Burger Kujai meals (199 baht or $6 for a Zinger burger a Crispy Fish burger, 3 chicken nuggets, a piece of chicken and your choice of sides), and Mix and Match sets (89 baht or $2.68 for 2 pieces of chicken, one side dish and a snack item plus a drink).
KFC has internet only choices
Unlike Burger King in Thailand, who has made ordering home delivery in Bangkok the biggest freaking hassle possible, KFC not only makes it easy to get home delivery but they even include internet only dishes for you to choose from.
Dishes like Click Double Kum (yep, that's really it's name), which is 3 pieces of chicken, 4 wings, 3 chicken nuggets and a shrimp donut for only 199 baht or $6.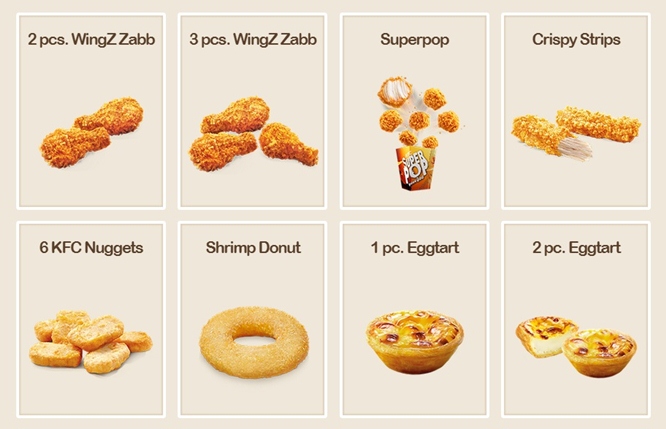 Snacks
KFC home delivery in Bangkok also includes their snacks menu, so don't miss ordering a shrimp donut (32 baht or 95 cents), an order of Superpop (popcorn chicken for only 42 baht or $1.34), or two egg tarts (44 baht or $1.40). And, of course, their three sizes of French fries.
All in all, I've been deliriously happy with KFC home delivery in Bangkok every time I've ordered it. It's never late, it's always hot, I get exactly what I ordered (not always easy in Bangkok where the language barrier sometimes serves up some very odd home delivery meals), and the delivery people are always nice and polite.
You can place a KFC home delivery order in Bangkok, or in many other places in Thailand, directly from their website. And do check out that Google map, as it makes it so easy for them to never get lost.
Now here's one of KFC Thailand's cool commercials to get you in the mood (they often tell such touching human stories the Thai advertising industry is famous for). Watch it then…order.