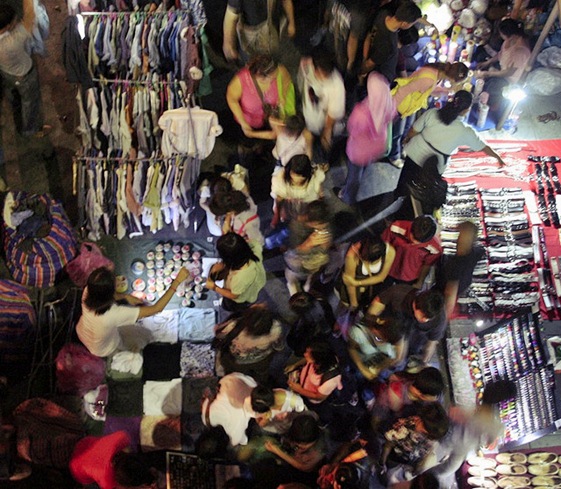 If you've never visited Khlong Thom in Bangkok, Thailand, you're in for a treat. That's because, even though there have been many night flea markets specializing in retro products popping up all over Bangkok in recent years, Khlong Thom is the original night flea market and, most Thais would say, the 'real deal'.
What is Khlong Thom?
First, let's start with the name. 'Khlong' in Thai means 'canal' and 'Thom' is the Thai word for 'landfill'. The name comes from the fact that Khlong Thom is located on narrow streets in Chinatown that used to be canals when Bangkok was known as the 'Venice of the East'. That was before most of Bangkok's canals were filled in with landfill to create streets for the growing number of motor vehicles and to become Bangkok's present day rabbit warren of cemented over monstrosities.
As for Khlong Thom itself, it is the oldest night flea market in Bangkok and it stretches for a very long way. It also sells everything imaginable, from new, cheap Chinese products (well, you are in Chinatown) to retro Thai household items from the 1940s through the 1990s, as well as an amazing mix of American and European products — some from 30 or 40 years ago. Heaven knows where the Chinese-Thai and Thais that own the market stalls at Khlong Thom find these items, but every week you'll see things you've never seen before and that certainly weren't there the week before.
Finally, of course, this being Thailand, a country where the population loves their food, you'll also find some incredible street stalls selling tasty Chinese and Thai food and snacks at local prices.
Where is Khlong Thom?
Khlong Thom is located in one of the oldest areas of Bangkok's Chinatown, or Yaowarat as the Thais call it. It's basically right in the middle of a box made up of four of Chinatown's main roads — Sieuh Pah, Charoengkrung, Luang and Worachak Roads — so it doesn't matter which street you come at it from, as all roads lead to………well…….. thousands of stalls of incredibly cool things.
The best way to see everything is just to start at one end and go all the way to the end of that street, then walk down the block and back up the next one. To cover the whole Khlong Thom market will take you several hours, especially if you stop to eat or to bargain, but it's an incredibly fun place to spend a Saturday night.
What Can You Buy at Khlong Thom?
Should I rephrase that question for you to say "What can you not buy at Khlong Thom?" as, if there's anything, I don't think I know about it.
The normal style Chinatown market stalls selling new products are located in the mix of Khlong Thom stalls and sell everything from cheap writing paper and gift wrap to ribbons, fabric and lace, umbrellas, reading glasses, household pots, pans and cooking ware, household ornaments, toys, costume jewelry, sunglasses, ties, underwear and socks — can I just say, if it's cheap and made in China it's being sold here.
As for the flea market section of Khlong Thom, the area with all the retro items, that's mixed in with the rest of it.
I've seen everything from Frank Sinatra records to car parts for classic 1950s and 60s automobiles, sets of golf clubs to microwaves, collectible toys from the 70s, 80s and 90s — some still in the original packaging, retro Thai cookie tins, old Bangkok road signs, antique radios and radio and stereo parts, vintage t shirts and jeans, classic comic books — western and Thai — paintings and old photographs, old postcards and magazines, musical instruments, retro and antique watches and jewelry and on and on.
The only way to describe Khlong Thom is it's a mish-mash of everything you've never thought you've needed and then you see it and realize "I must have that".
When Does Khlong Thom Open?
Khlong Thom is up and running by around 5pm on a Saturday evening and stays open until 1pm. It is a completely safe market to visit. Like in any country, however, there are sometimes pick pockets so keep your money in a secure and hard to get at location and keep an eye on your bags.
To get more of an idea of what you can expect at Khlong Thom market, don't miss these excellent photographs from the Bangkok Post, one of Thailand's English language newspapers.