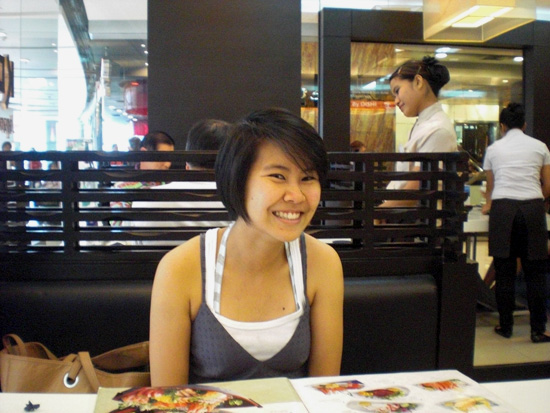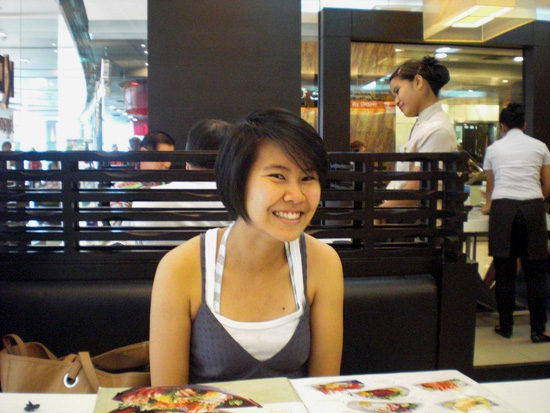 I recently ate dinner at Kobune Japanese restaurant at Central World Plaza in Bangkok with a Thai friend. It was the first time I had eaten at Kobune, although I eat at other Bangkok Japanese restaurants several times a month. Kobune, from the outside, looks like a typical Japanese chain restaurant. Dark wooden lattices everywhere, dark leather seating and dark wooden tables. Food-wise, though, it's different than most other Japanese chain restaurants in Bangkok and here's why.
The food at Kobune Japanese restaurant – When the menu arrived, it looked similar to menus at Fuji restaurants and Ootoya restaurants in Bangkok. Kobune has most of the same dishes as these two restaurants (although some of my favorites were missing) and, from the photographs, the food looked the same.
We ordered a plate of California Rolls (your basic sushi) for our appetizers and, at only 120 baht (around $4), the price seemed cheap. My friend ordered a Tempura dish and I decided on the Chicken with Egg and Rice – similar dishes to what we normally order at Ootoya or Fuji. When the food arrived though, we immediately saw the difference.
The sushi was cheap quality, with rice that clumped together and fish and vegetables that didn't seem fresh. My friend's Tempura was not cooked properly so she spent a lot of time wading through food that was obviously frozen five minute before and still soggy, while I tried to eat my Chicken and Rice.
I'm used to a similar dish at Ootoya, which is always fresh and always perfect. At Kobune the meat was only dark meat so poor quality, it wasn't cooked properly and the rice was the cheapest rice you can buy (you can tell, as it clumps together when cooked and is heavy and soggy).
Both of us stirred our food around a lot and then left most of it. At Kobune, the food is definitely cheap (about half the price of Fuji or Ootoya but, because the quality is so bad, I'd prefer to pay the extra money and eat fresh Japanese food and not badly cooked, poor quality Japanese food).
After the meal, when the bill was brought to our table, the waiter did bring small bowls of chocolate chip ice cream, which was a nice touch, and the taste of the ice cream was quite nice.
Drinks at Kobune Japanese restaurant – Kobune serves the usual drinks – cold and hot green tea, beer, coke, pepsi, mineral water and Thai iced tea. They also have quite a good menu of fruit smoothies, although neither my friend nor I ordered one, instead prefering to stick to cold green tea – which was fine. The one thing I did like about the green tea was, unlike Fuji which only served bottled green tea, Kobune serves fresh green tea and staff is constantly coming around to refill your glass.
Staff at Kobune Japanese restaurant – The staff at Kobune was very pleasant. From the minute we walked in, they were attentive and helpful, cleared dirty dishes away quickly and made sure we always had a free refill of iced green tea.
The atmosphere at Kobune Japanese restaurant – The atmosphere at Kobune at Central World Plaza is similar to almost every chain Japanese restaurant in Bangkok. Similar seating arrangements, similar design, similar open spaces, with large glass windows everywhere so it's not that cozy.
For a cheap Japanese restaurant, Kobune at Central World Plaza would definitely be a good choice. If you like good quality Japanese food though, I wouldn't recommend Kobune as the quality of the food is low compared to other chain Japanese restauarants.
Sure, the inexpensive price is nice (our bill came to 315 baht (around $10.30) for the two of us, which is inexpensive for Japanese food. But, overall, I prefer quality over cheap price so would go to Fuji or Ootoya before I would eat at Kobune again.