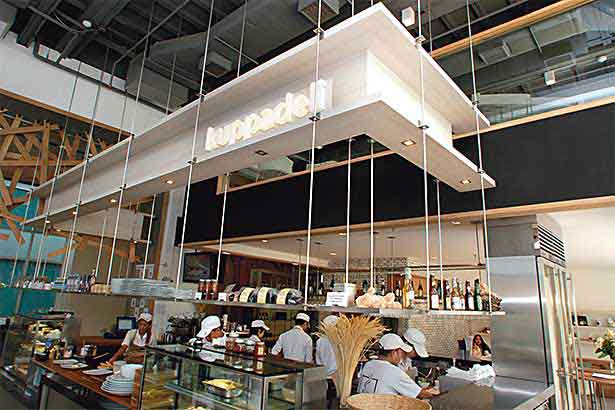 Kuppa is one of Bangkok's most popular restaurants. It's been open forever yet still manages to attract a crowd for both lunch and dinner, and their amazing food is why. So, when their new venture, Kuppadeli, opened recently, I was one of the first to try it. An incredible mix of delicious western food, a stylish ambience, and phenomenal coffee, make Kuppadeli a must visit for anyone in the Phetchaburi area of Bangkok.
Location of Kuppadeli – Kuppadeli is located just a five minute walk from Phetchaburi MRT underground train station, at Sukhumvit Soi 21, in Bangkok's The Pride (formerly known as Asoke Towers). With a main indoor cafe downstairs, a lovely outdoor patio, and an upstairs balcony with comfy sofas and chairs, you can't beat Kuppadeli for location or comfort.
Atmosphere at Kuppadeli – Taking after its mother, Kuppa, Kuppadeli is open-plan, light and extremely trendy. Designed in a mix of industrial-style and ultra-modern cozy, Kuppadeli is New York deli mixed with Asian chic. Staff is friendly (although not always the brightest bulbs in the box), and clientele upwardly mobile, or already up there. If you like feeling trendy when you're eating, Kuppadeli is certainly the place for it.
Food at Kuppadeli – Just like Kuppa, Kuppadeli excels in the western food it serves. Portions are large here and the food is just the same — amazing.
With a large menu of sandwiches, salads, pizzas, fish, spaghetti, and of course their famous all-day breakfast choices, Kuppadeli has something for everyone.
Try the sausages and mash — tasty, spicy sausages and perfect creamy mashed potatoes –, the fish and chips are perfect, and beautifully displayed, and the chicken avocado sandwich is still my favorite thing on the menu. Thai friends rave about the burger (there's only one) as it comes with cheese, a fried egg and, interestingly, ratatouille. That will be my next must-try dish here. (Oh yes, I've eaten there three times already and will definitely be going back).
Coffee drinks too are just as delicious as their famous Kuppa variety. In fact, Kuppadeli staff manages to make one of the best lattes in Bangkok and, it even arrives steaming hot at your table when you ask for "Extra hot" (if you haven't been in Bangkok long, you've no idea how rare that actually is).
Price-wise, Kuppadeli is in the same region as Kuppa. Around 350-400 baht ($11.75-$13.25) will get you a nice entree and a latte or other non-alcoholic beverage. If you add a dessert, and you should, they're stupendous — expect to add another 1,000 calories and 190 baht ($6).
Service at Kuppadeli – We always laugh about the service at Kuppa, as the staff often seems more interested in looking "pretty" (the men too!) than in actually giving you great service.
However, Kuppa trains their staff, they've managed to repeat the training at Kuppadeli as, although the folks who work there are lovely and friendly, heads up in the clouds seems to be a good description. Overlook it if you can, as the food is well worth it.
Opening Hours – Kuppadeli serves delicious food every day, from 7am (don't miss their breakfasts) to 10pm. It's often quiet at dinner time, so perfect for a romantic evening.