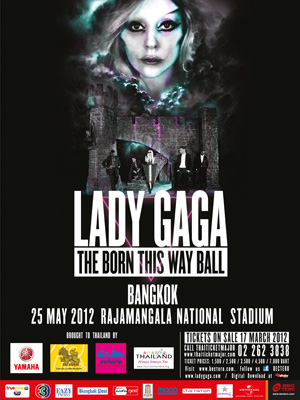 While extremist right-wing religious nuts in countries like Indonesia and South Korea try to get Lady Gaga banned from performing, Lady Gaga arrived in Buddhist Thailand yesterday with no more problems than how much the already-terrible traffic was going to be held up, and whether she'd be overwhelmed by the incredible heat and fans.
There are many things not so good about Thailand (lese majeste laws, corruption, pollution, Bangkok traffic just to name a few) but one thing the Thais always get right is they're welcoming to just about everyone, no matter what their religious views are, or aren't, or how they behave or dress. Lady Gaga has already discovered this first-hand.
In fact, she was met at Don Mueang Airport in Bangkok by a mob of 'Thai little monsters', all who were desperate to see their idol in person. Even some of the somewhat old-fogey officials were smiling and welcoming.
You have to wonder though what she was thinking arriving in a high-necked rubber suit. It's 95 degrees at the moment, with almost 100 percent humidity. Maybe her manager should have told her to check the weather forecast?
Lady Gaga is in Bangkok for a sold-out Friday night concert 'Born This Way', at an arena that holds around 50,000 fans. Not only are so many Thais looking forward to seeing Gaga live on stage, but fans have traveled in from Malaysia, Vietnam and Cambodia too. Security will be tight, but not because of any planned demonstrations, simply to keep over-exuberant fans away from Lady Gaga as well as to prevent any accidents.
Meanwhile, in Indonesia, right-wing Muslims are still trying to stop Gaga's planned concert there, which looks like it very well may be canceled.
Indonesia or Thailand? I know which one I'd rather live in.