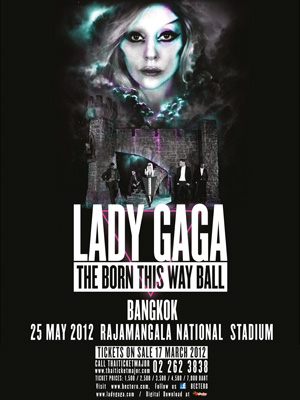 Lady Gaga's Thai fans are getting themselves all geared up for her concert on 25 May. As part of her new tour of Asia, Australia and Europe, Lady Gaga will be in Bangkok starring in The Born This Way Ball at Rajamangala National Stadium just outside Bangkok, and tickets are already on sale. Fans are practically delirious they're so happy.
Of course, this being Lady Gaga, tickets are certainly not cheap and definitely not "Thai price". The cheapest prices are 1,700 baht ($56), and then go up from there – 2,500 Baht($83), 3,500 Baht,($115) 4,500 Baht ($150) and 7,000 Baht ($233). (It's amazing that Lady Gaga's highest price ticket is only $30 short of the average Thai monthly salary – a bit sad, really).

Meanwhile, if you can afford concert tickets, The Born This Way Ball starts at 8:30 pm, with doors opening at 5pm. You can currently buy tickets through Thai TicketMajor.
Lady Gaga fans have already started to celebrate her upcoming Bangkok appearance two months early, with around 70 people from the "Thailand Loves Lady Gaga" Facebook group dressed up a la Gaga, and dancing to some of her songs outside Central World mall last weekend.
Kind of cool actually that they love her so much.