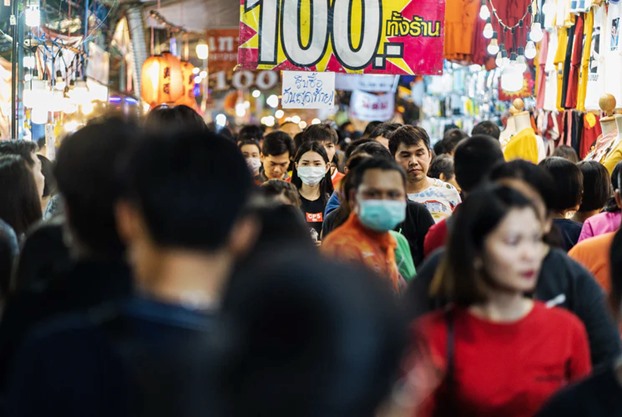 Although Thailand was the first country to report a case of Covid-19 outside China, it soon became a country with one of the lowest numbers of Covid cases in the world.
This was largely due to the Thai government shutting down the country's borders to international visitors at the end of March, 2020.
Low Covid numbers continued for over a year until early April, 2021 when Covid cases in Thailand began to surge.
The latest statistic for Covid cases in Thailand as of today's date, June 6th, 2021, is now 2,817 new cases and 36 new deaths (source).
There is good news attached to that, however, in that daily recoveries are now outpacing new cases for the first time in several weeks.
Covid in Thailand's prisons
There is still a problem with the spread of Covid in Thailand's prisons, however, with 315 of today's reported 2,817 cases being found in Thai prisons.
This is generally due to overcrowding in the country's jails, with often up to 30 people or more sharing one large cell.
Covid cases in Thailand in last 7 days versus previous 7 days
The total number of new Covid cases in Thailand over the last 7 days has increased by 6% over the previous 7 days, with the last 7 days seeing 25,017 new cases compared to 23,661 cases in the 7 day period before that.
With 229 deaths due to Covid in the last 7 days, however, that is a 2% fall compared to the previous period.

Thailand's country ranking 
According to Worldometer's weekly trends list, Thailand is currently ranked #80 in countries reporting total number of cases of Covid — a ranking that has fallen eight places in the last two weeks.
Now Covid is spreading in Thailand, like it has been in much of the rest of the world for more than a year, the south east Asian country is likely to see its ranking continue to drop for a while, as other countries' case loads fall and Thailand's continue to increase.
When it comes to current number of new Covid cases, however, Thailand is now ranked at #20 on Worldometers weekly trends chart, behind Peru, Iraq and Spain, due to its rapidly increasing reported Covid cases.
If you look at the number of new cases versus total population of the country, however, Thailand is actually ranked 75th.
Where are Thailand's new Covid cases located?
As you might expect, Bangkok has added more Covid cases in the last 24 hours than any other place in Thailand, with 925 new cases recorded in the capital city.
Pathum Thani was second with 411, and Samut Sakhon was third with 293.
Other places reporting new Covid cases in Thailand include Samut Parakan with 143, Phetchaburi with 130, Nonthaburi with 78, Trang with 52, Ayutthaya with 49, Chon Buri with 40 and Songkhla with 38.
Out of Thailand's total cases of 177,467, it has been reported that 126,517 have already fully recovered.