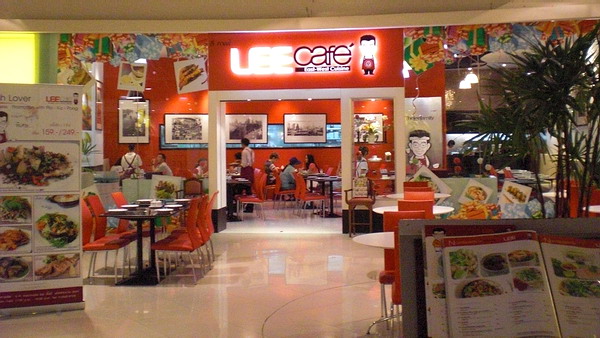 Bangkok, Thailand is known for its incredible variety of food, much of which is quite inexpensive. Oddly though, being cheap doesn't usually stretch to Chinese cuisine, as many Chinese restaurants are some of the priciest in the city. That's why, when I discovered the Chinese chain, Lee Cafe, I was thrilled. Trendy and cheap, and with a huge Chinese fusion menu, and delicious food, Lee Cafe makes eating good Chinese food in Bangkok affordable.
Where is  Lee Cafe? – As it's a chain of Chinese restaurants, Lee Cafe is in a number of locations around Bangkok. You'll find one at Esplanade Mall, another at the newly renovated Central Ladprao, Central World Plaza has one and so does Suvarnabhumi Airport. In fact, so popular has Lee Cafe turned out to be, they've even now opened branches in Singapore and Japan.
Food at Lee Cafe – The three main reasons Lee Cafe is so popular in Bangkok are easy to identify — cheap food, a huge menu, and food that tastes great. Lee Cafe is a trendy restaurant that still manages to serve inexpensive food and, with its interesting mix of traditional Chinese food, and other more east-west fusion food, there's something on the menu for everyone. They've even added several Thai dishes — the ones westerners usually love to eat.
O course, when you arrive at a Lee Cafe, you may feel a little overwhelmed. The menu itself is large. Then, when you add in the specials they advertise, the choices can seem too many.
Start off with a couple of orders of dim sum, as it's excellent here. My favorites are the Chinese buns with red pork. For entrees, the fried egg noodles with bamboo shoots and chicken, the sukiyaki with pork and, of course, their fried chili prawns with basil. For dessert, they serve an excellent mango and sticky rice.
Don't forget to check out their specials though too. Lee Cafe often runs deals such as five small dishes for 199 baht ($6.50) or specials on dim sum or particular styles of rice dishes or noodles. You can easily get away with lunch or dinner for 199 baht or less if you order from the special menu, and you'll leave the restaurant very full.
Even without the specials though, prices are inexpensive. If you order just from the dim sum menu, you can enjoy 4-5 dishes, split between two people, and soft drinks or tea-based drinks, and get a great meal for 150-200 baht ($5-$6.50) per person.