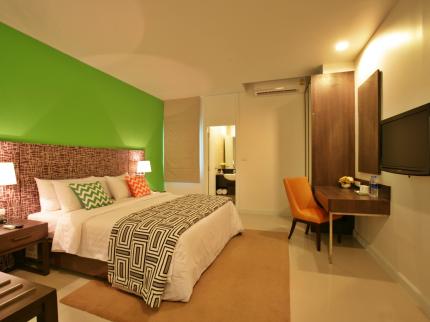 Legacy Express is a new inexpensive 3-star hotel in Bangkok, Thailand. Opened a few months ago, the hotel even smells new when you walk into the lobby area. Which is actually one of the reasons a friend and I booked it as, we figured with Legacy Express still being new, the photos online couldn't lie and, believe me, they don't.
Staying at Legacy Express hotel was a wonderful experience right from our arrival and, particularly for the inexpensive price, it's a fabulous new addition to Bangkok's hotel business.
Legacy Express' Location – Every couple of months, a friend and I stay overnight in a Bangkok hotel. We're both Bangkok residents, but it's fun just to get away from the same humdrum and to be able to go out and have a good time without worrying about getting back to northern Bangkok late at night.
So, when we looked at booking a room at Legacy Express hotel, the first thing we checked was its location and it couldn't have been better.Legacy Express is located around 100 meters from Ploenchit sky train station, which means it's right in the middle of all the action. Right on Soi 1, there's a 7-11 next door, the city's famous Bumrungrad Hospital a couple of minutes away and restaurants, cafes and bars everywhere you look.
Legacy Express' Guest Rooms – As it's a new hotel, when we opened the doors to our rooms, they looked just like the photos online. Decorated in a funky modern-style, they're bright, colorful and very comfortable. We booked two superior rooms with king size beds and both had wall-mounted flat-screen TVs with cable TV, an in-room safe, free in-room high-speed internet, ensuite bathroom with a nice big vanity and an enclosed shower and even a hot water heater, coffee mugs and complimentary coffee.
The rooms are pristinely clean, quiet and the beds, oh so comfortable. We only stayed one night but both my friend and I agreed, it was a relaxing night.
Legacy Express' Service – The staff at Legacy Express hotel is delightful. It's quite a small hotel, only 63 rooms, and was about half full when we stayed there, so the service from the staff was friendly and attentive. When we arrived, we were checked in quickly and told if there was anything we needed, just ask.
Legacy Express Facilities – While it doesn't have the facilities a larger hotel might have, it was perfect for what we needed. There were a couple of computers downstairs for internet use, a small restaurant called Casablanca that serves a mix of middle eastern and european food, and an excellent buffet breakfast was included in the room rate.
We only ate breakfast at the hotel (which was perfect) but I'll definitely be going back to check out their dinner menu as, from what we saw sticking our heads into the restaurant on our way out for the evening, the food looked gorgeous.
Legacy Express Price – All hotels in Bangkok are currently running cheap specials, due to the Thai political situation and red shirt protests. When we stayed at the Legacy Express a few weeks ago, we booked online and got a special rate for a superior room of 1,400 baht ($43). The rate included a half-day tour of Bangkok, which we didn't need as we live here, but is a good deal for first-time visitors to the city.
Overall, I'm highly impressed with the Legacy Express hotel. The room rate is cheap, particularly for the incredible location, the rooms are comfortable and with just about every amenity a vacation traveler could need (plus some a business traveler would like), the staff is lovely and the food delicious. What more could you ask for.
To check out more about Legacy Express hotel and see photos of their adorable rooms – see their website below.
You can get some excellent cheap rates at Legacy Express Hotel in Bangkok through Hotels.com. Check them out.