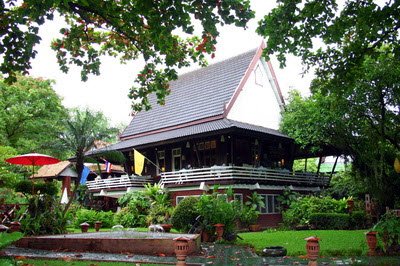 Chiang Mia is home to some wonderful vegetarian restaurants. One such restaurant is The Whole Earth, a vegetarian and Indian cuisine restaurant that's been open for almost 30 years, so you just know it must be wonderful.
Location of The Whole Earth in Chiang Mai – Part of the charm of The Whole Earth in Chiang Mai is its gorgeous location. Situated in a traditional old wooden Thai Lana pavilion complete with open-air balcony and a lovely garden, it's such a pleasant place to enjoy a relaxing lunch or dinner. I'm normally an air-conditioning type person in Thailand as it's just so darned hot here but, at The Whole Earth, because it's all about health and nature I always end up sitting outside on the balcony. You feel a bit of fraud otherwise, and it's so pretty.
The Whole Earth is next to a beautiful Thai temple (how can you not feel incredible in this kind of atmosphere?) and close to the old city of Chiang Mai and the Night Bazaar. A couple of times, we've eaten dinner here then walked over to the Night Bazaar for shopping. You couldn't get a more perfect evening.
Food at The Whole Earth – When the restaurant opened almost 30 years ago, they began with the concept of serving only healthy food so the only things you'll find on the menu are Thai vegetarian, or non-vegetarian meals with fish, seafood and Halal chicken and lots of Indian dishes – no pork or beef, but who needs it. Just sitting down at The Whole Earth and picking up the menu immediately makes me feel healthy.
In more than twenty times eating there, I've never eaten anything at The Whole Earth I didn't love. The food is incredibly fresh, cooked lightly without a lot of fat, and flavored with such an amazing mix of herbs and spices every mouthful is tangy and unique.
I always begin with the steamed spring rolls, fresh and perfectly stuffed with veggies, and vegetables samosas, and then get onto ordering the main dishes. The restaurant's spicy seafood salad is incredible, curry in a banana leaf and steamed snow fish in lemon sauce are must-orders, and we never miss getting the vegetarian tom yam (spicy soup) and the tom kha gai (chicken in coconut milk). Perfect.
Prices are reasonable, particularly for the quality of the food. With a mango lassi or fruit juice, and everything else we order, we normally walk away having spent around 350 baht each (about $11.30), which I think is a darned good deal.
If you're looking for a healthy restaurant in a perfect location, you shouldn't miss The Whole Earth. Do be warned, they close quite early compared to other Chiang Mai restaurants (by 9:30-10pm) so, if you're going for dinner, get there before 7:30pm and you'll have plenty of time to enjoy it.
Whole Earth vegetarian restaurant, Chiang Mai is at 88 Sri Donchai Rd.