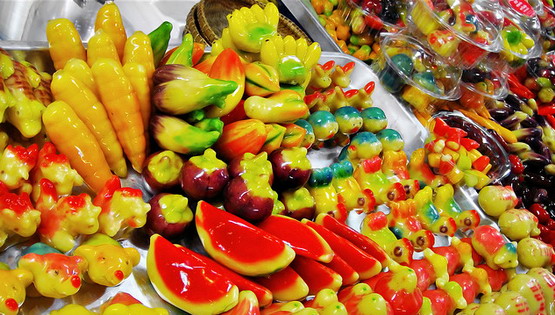 At Tasty Thailand, we love to stumble across photographs from talented photographers who record so much of what is lovely and exotic about Thailand. When we come across one that stands out from the crowd, we feature it as our Photo of the Week.
Such is this beautifully bright and colorful photo from Suradej Cheuphanich or AmpamukA on Flickr. He's a doctor of emergency medicine in Thailand, but still finds time to take some incredibly beautiful photographs.
The one we're featuring this week is of a wonderful display of  'luk chup'. Luk Chup is a delicious Thai dessert you find all over Thailand, everywhere from street stalls to high-end supermarkets and restaurants.
Luk Chup is made from a mung-bean paste, with sugar, coconut milk and colorings added, then shaped into cute images of various fruits.  They look wonderful. They taste even better And Khun Suradej's photo really does them credit. We love it.
Don't miss checking out K. Suradej's other photos on Flickr too. They' re absolutely beautiful.