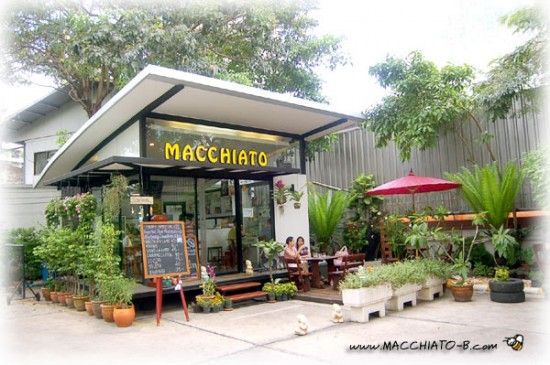 Recently featured in the book "Cafe Culture", Macchiato Cafe has become one of Bangkok's in places. As coffee shops go, Macchiato is cute anyway. Tucked away in a soi (small lane) near Ari BTS sky train station it offers an easy to get to location, but with the quiet and calm that many of Bangkok's sois provide. It's also in one of the trendiest areas of Bangkok, so, once it was featured in "Cafe Culture", it's not surprising Macchiato became so popular.
Macchiato is a small independent cafe just a five minute walk from Ari BTS sky train. When you first come across Macchiato, the most noticeable thing is its located in nothing more than a small kiosk. But, what the owners have done with that kiosk is amazing. Outside, there's a couple of deck areas, surrounded by plants, flowers and potted shrubs. The wooden tables and chairs fit perfectly with the lovely flowers and plants, and the red umbrella gives it just that extra burst of color. Don't miss the cute Thai cartoon statues dotted all over the gardens either, or the 'Welcome' signs. Everything together gives this little independent cafe an atmosphere of fun, cuteness and, above all, perfect hospitality.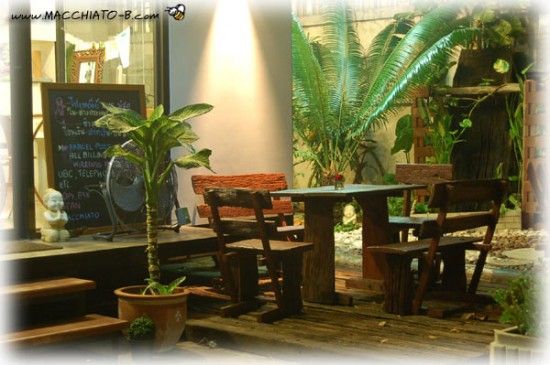 Inside Macchiato, there are a few small tables and chairs as well as several stools next to computers and a printer as, yes, Macchiato offers free Wi-Fi and printing services too. In fact, not only is Macchiato a cafe, it's also a one-stop shop for so many other things. At Macchiato you can pay your phone, credit card, insurance and utilities bills. You can get a money order, take a parcel to be wrapped and then shipped and they'll take care of that for you too. You can fax a document, make photo copies, burn a DVD or CD, and make a phone call overseas.
Macchiato has banking services (transfer or deposit) and even a travel service, where you can book a trip somewhere else in Thailand. Or, if you just want to sit and relax, grab one of the books or magazines from their small selection especially for customers to browse.
Macchiato though is also a wonderful cafe. They serve the usual lattes, espressos, mochas and, of course, macchiatos. They also offer healthy fruit juice drinks and detox drinks, as well as tea, cocoa and even beer. My favorite drink at Macchiato is the caramel macchiato but what's even more wonderful is, after just a couple of visits, the staff at Macchiato remembers you and remembers your drink. How welcoming is that!
Macchiato has a decent menu too. Their small bakery section has choices of cakes and pastries, as well as sandwiches, toasted sandwiches, and even jelly and ice cream. Service is fast and efficient.
If you're looking for a relaxing cafe in Bangkok that's off the beaten track a little, I can't recommend Macchiato enough. Their beverages and snacks are wonderful, the location is easy to find, their staff is lovely and the atmosphere is perfect.
Macchiato is located just off Pahonyothin Soi 7. Take the sky train to BTS Ari station. Get off and walk down Pahonyothin Soi 7. Turn right down the first soi you come to, and Macchiato is just past Baan Yoswadi.