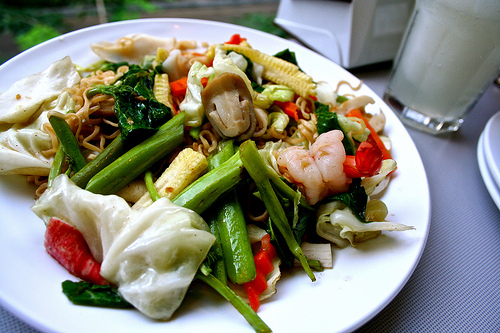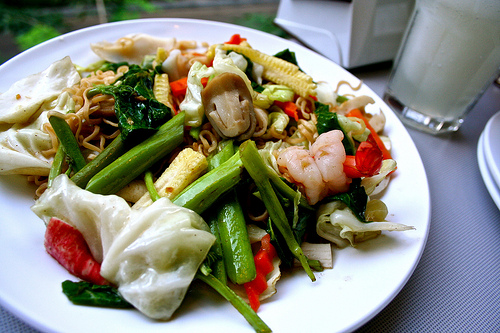 Food courts in Bangkok, Thailand are the most popular places to eat in the city. Offering delicious Thai, Asian and western food, served in an air conditioned place, Thai food courts are cheap and convenient. The best food court in Bangkok, if not in Thailand, is the food court at Mahboonkrong (MBK) mall. Known by Bangkokians as the best place to eat in the city for cheap and delicious food, Mahboonkrong (MBK) food court is wonderful for people who love an amazing choice of food at great prices.
Where is MBK Food Court? – The food court at MBK is located on the 6th floor of the massive MBK shopping mall in downtown Bangkok. Easily accessible from the National Stadium sky train station right next to the mall, just take the escalators to the sixth floor and head to the far end of the building, in the opposite direction to the Thai souvenir section. You'll see the large food court towards the end on the left hand side of the building.
How Does the MBK Food Court Work? – It's easy. Just like any food court in Thailand, go to the counter that says "Tickets" and buy food tickets to use at the food stalls. You can buy 50 baht, 100 baht, 200 baht's worth of tickets – pretty much however many you want. Remember too, it doesn't matter how much you buy as you can return what you don't spend for a full refund.Once you have tickets in hand, browse the more than 50 food stalls in the food court, make your choice at the food stall you like and place your order. When your food is handed to you, give the server tickets in the denomination of the cost of the meal.If you don't have the exact amount, don't worry, you will get 'change' in the form of lower denomination tickets.
What Kind of Food is At MBK Food Court? – The main thing Bangkokians love about the Mahboonkrong food court is the sheer variety of food. Add onto that food that's always fresh, cooked while you wait and authentic Thai and you can't go wrong.The food court has Thai, Vietnamese, Japanese, Indian and Chinese food as well as a couple of stalls selling western-style cuisine. You'll also see stalls selling Thai desserts, coffee and tea, fruit smoothies and ice cream.
Look for the noodle shops, which make authentic and delicious yenta foh (the Thai noodles that come in a spicy pink sauce). There's a shop that serves fresh som tam (spicy papaya salad), which is sliced and pounded while you wait. Tom yam geung (shrimp curry) is delicious here, as is the pad thai (Thai noodles fried with fish sauce, peanuts, egg, lime and bean sprouts, with added chicken, shrimp or tofu). Curries, rice dishes, fried chicken, pork and fish balls, stewed pork on rice, vegetarian meals and more abound. If you can't find something you love at MBK food court, there's something wrong with you.
The Thai dessert food stalls are spectacular (lots of dishes made with rice, coconut milk and cane sugar or fresh fruit) and the coffee shop makes excellent iced lattes and green tea shakes.
Prices at MBK Food Court – Like I said, it's cheap. An average entree at the food court is between 30-50 baht (95 cents to $1.50) and that's for a huge portion of food suitable for a meal. Desserts are usually 25-30 baht (75 cents to 90 cents) and lattes, coffee drinks and green tea shakes around 50 baht ($1.50).A family of four can eat at MBK for around $10, including drinks and dessert.
Photo – Some of the delicious desserts at MBK food court in Bangkok.