Right, so it is not technically "Thai food" but it is still lovely. I am talking about BOH tea, an instant tea mix I buy every time I go to Malaysia.
Last week, I spent a few days in Kuala Lumpur and did my usual round of buying exotic (well, to me!) food and drink at KL's amazing supermarkets.
BOH 3-in-1 tea is a cheap instant tea (basically a tea powder, powdered non-dairy creamer and sugar) and, sure, it is not particularly healthy but a hot, steaming cup of BOH tea every few days is perfect, especially when it is currently rainy season in Thailand.
Only about 55 baht (5.5 ringgits in Malaysia) or $1.70, for 10 packets of BOH instant tea, I always realize when I get back to Thailand I should have bought more.
You just open up the little sachet, pour the powder into a mug, add hot water and stir. I sometimes add a little milk too just to cool it down but, other than that, it is ready.  A delicious cup of hot, sweet, light tea. Perfect.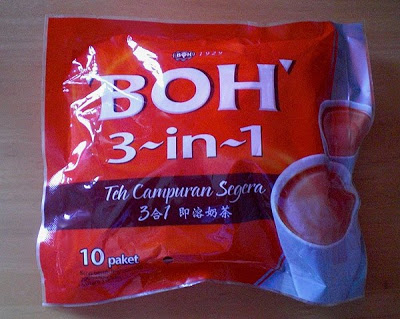 BOH also makes a 2-in-1 tea (just milk and tea)  if you don't take sugar in your tea, as well as regular tea bags, iced teas, teacinos (a mix of tea and milk that frothes to make a cappuccino-style tea) and a load of other products.
BOH tea plantation is in Cameron Highlands, a gorgeous part of Malaysia, and was originally founded by a British guy. Here's the BOH website, where you can order it if you are interested.