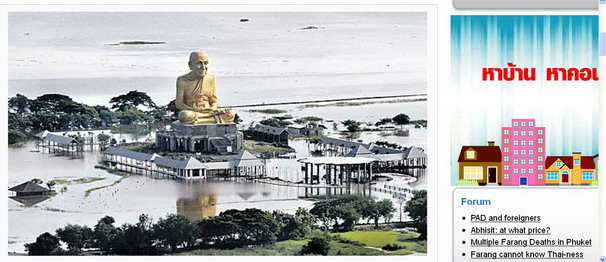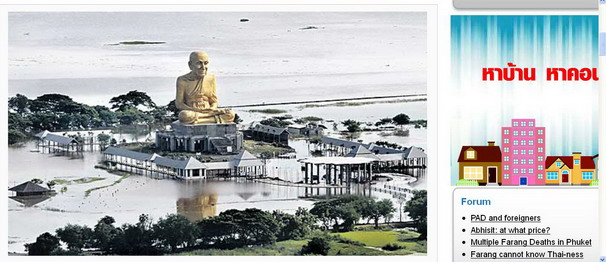 More than 30 provinces in Thailand are already flooded, with some having been under water, on and off, since July. Now, if the government of Yingluck Shinawatra is correct, in the next day or two it will be Bangkok's turn. All of Ayuttahaya province, just an hour north of Bangkok, has already been declared a disaster zone, as most of it is under water. Bangkok will be next.
Yingluck Shinawatra, the new Thai prime minister, addressed the nation last night. In her address she said the flood problem is reaching "crisis levels" and the prognosis is "grim". The government is now trying to divert flood waters into the ocean, before the next massive flow of water hits. If they're unable to, Bangkok will be under several feet of water in the next couple of days.
Sadly, much of the problem of flooding in Thailand, particularly in Bangkok, is Thai-made. It's due to the rampant chopping down of trees, particularly the massive deforestation in the north of Thailand, the filling in of canals in Bangkok to build more roads, and building concrete monstrosity after concrete monstrosity, surrounded by tens of thousands of kilometers of concrete roads.
The drainage system is poor and, even after the last floods devastated Bangkok in the mid 1990s, little was done to prevent it from happening again. Fast forward to 2011, and October's floods are the consequence.
For Bangkokians, there's not really much we can do. Just hope the government figures out some plan to drain away some of the water, and to stock up on basic food stuffs in case you get stuck at home with your soi flooded or, god forbid, trapped on the second floor of your house as the waters rise.
It's at times like this I'm thankful my apartment is many floors up.
For more on the Bangkok flood story, read the latest Bangkok Post article where the amazing photograph above came from.