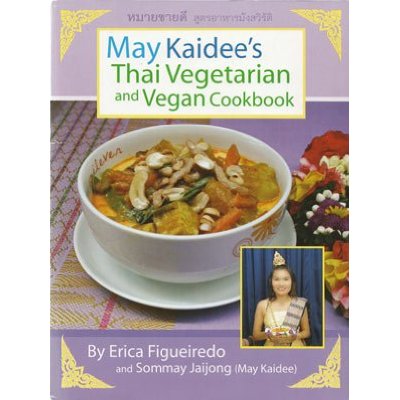 The first time I ate at a May Kaidee vegetarian restaurant in Bangkok, Thailand was with a western friend who only ate vegetarian food. The food at May Kaidee was dirt cheap and amazing, but the location slightly grotty in a dingy alley near Khao San Road. A few years later, May Kaidee has not only spruced up the original restaurant so that now it's trendy, cool and lovely, she's also opened two other branches in Bangkok and another in Chiang Mai.
Now one of Thailand's most successful (and delicious) vegetarian restaurants, there's nowhere else you should ever eat if you love vegetarian food. Mai Kaidee is the best.
The Story of May Kaidee – Twenty years ago, Sommay Jaijong (nickname "May" or "Mai") was an extremely poor young girl working in the fields in northern Thailand. She loved food, particularly vegetarian food as she found it made her thinner and healthier.
After being given the opportunity to move to Bangkok and help her aunt cook in her tiny vegetarian restaurant, May began to create her own tasty, spicy and traditional Thai dishes that were adapted to be used with vegetables. Today, May is known as one of Bangkok's most successful entrepreneurs and one of its best vegetarian chefs.
The food at May Kaidee is all from May's personal recipes, and is some of the best food you'll find in Bangkok anywhere – not just vegetarian food, but any food. Nowadays, May spends half the year in the United States, where she's in the process of opening restaurants there too. In English, "May Kaidee" means "May Sells Well" and yes, she certainly does.
Locations of May Kaidee Restaurants in Bangkok – Not one to move much, May still runs her original restaurant along with a second one right across the alley, in the Khao San Road area of Bangkok. Easy to find, you just walk to the end of Khao San Road where the Burger King is. Walk around the back of the Burger King, take the alley to the left and you'll see May Kaidee on both your left and right hand side.
The third May Kaidee location is still in the Khao San Road area, just five minutes from the original May Kaidee, on Samsen Road. This location is also where May runs her famous vegetarian cooking school.
Food at May Kaidee – Of course, the atmosphere at May Kaidee is cool and a bit trendy now, although still typically traditionally Thai. But….the food is what everyone flocks to May Kaidee for and, boy, if it isn't the best vegetarian food you've ever eaten there's seriously something wrong with you.
At May Kaidee, if you like traditional Thai food but didn't want to eat it because of the meat, no worries, she's come up with some incredible recipes that will give you the true taste of Thai food but without the meat.
Try the Penang curry (lots of vegetables and herbs, instead of the chicken or beef), the banana flower salad served with red rice is incredible, her spring rolls with peanut sauce are the best I've ever eaten, the Pad Thai is great if you want a more recognizable food and, if you don't eat the pumpkin hummus, you're missing a treat. Brown rice is served with all the dishes too, so you don't end up eating mountains of white rice that's more than a bit nutritionally useless.
A cup of hot or cold herbal tea also hits the spot. Or, if you like fruit shakes, you'll find some of the richest, thickest and tastiest in Bangkok here.
One of the best times to go to May Kaidee is on Saturday nights at the number 3 branch behind the Burger King. Here, every week, they cook an all-you-can-eat vegetarian buffet dinner that's absolutely superb.
For only 120 baht ($4), you get to eat as much curry, papaya salad, sauteed veggies, rice dishes and Pad Thai as you want and it even includes a traditional Thai dancing show. Kids too eat for only 60 baht ($1.50). Be aware though, it starts at 7pm and is immediately packed, so get there early. It's a fun place to meet people too.
Prices at May Kaidee – You can't get cheaper vegetarian food in Bangkok, at least vegetarian food that tastes good, no matter where you go. With most dishes around 40-80 baht ($1.25-$2.75), the best thing to do is go with a couple of friends and order five or six things. That way, you all get to eat for around $3, yet can try so much on the menu.
Don't forget too, May Kaidee isn't just a place where you can grab lunch or dinner and hang out for a while. I always eat my meal here then, a few minutes before I plan on leaving, I order five or six other things on the menu and request them "To go". That way, when I get home, I just put them in containers in the freezer and have meals for another two or three days that are healthy, tasty and extremely inexpensive.
More Information: