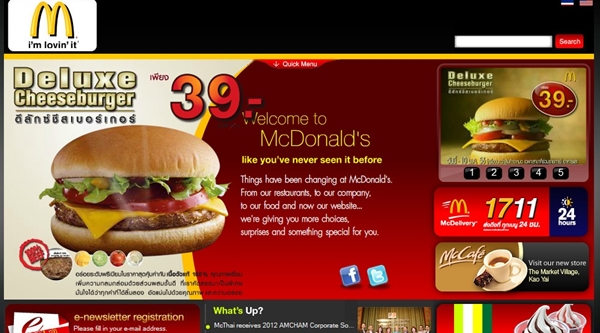 For anyone who has visited Bangkok, Thailand they know how exhausting touring around the city is. That's why, if you want to stay in your hotel room one night just to relax, you might consider having food delivered. And who delivers food in Bangkok? Just about any restaurant but, surprising to many overseas visitors, McDonald's delivers food in Thailand too. Anything on their menu and, yes, McDonalds delivery in Thailand is fast and cheap.
McDonald's has more than 160 restaurants in Thailand, and many of those are in Bangkok. That means, no matter where you are staying there should be a McDonalds location nearby. They deliver breakfast, lunch and dinner and, of course, snacks in between. Guaranteed delivery is 30 minutes or less.
On top of that, at least half of the McDonald's in Thailand are open 24 hours a day, so you can even call them to arrange a food delivery even at 4am.
Many of the menu items McDonald's sells in Thailand are similar to McDonald's in America, although in some cases they won't taste quite the sam,e as the ingredients they're made with here are a little different. McDonald's in Thailand also have a variety of things on their menus that are only sold in Thailand — the Spicy McWings Set, for instance, and the Samurai Pork Burger. Why not try an odd-and-new-to-you sounding item though, as they really are very good.
Ordering from McDonald's in Bangkok and anywhere else inThailand is also so easy to do. Just dial 1711 anywhere in Thailand and speak to a McDonald's operator. There's a special English line too, so you'll have no problem with communication.
Place your order (speaking slowly so they do understand) and soon after all the food you ordered will arrive right at the door of your hotel or apartment. They do charge 30 baht to deliver, but as that only work out at about 85 cents it's no huge deal. Tipping isn't mandatory in Thailand either but it's nice to do and the delivery guy will be thrilled. 20 baht (62 cents) is enough.
Just a quick tip too, before your place an order to go from any McDonald's in Thailand. Honestly, avoid the French fries, unless you have easy access to a microwave to heat them up as the darn things are always cold. Even if you sit down to eat them in a Thailand McDonald's restaurant. Just about any other thing you order though will be very hot and, yes, very tasty.
You can get all the information you need about McDonald's delivery in Thailand from their website, including being able to see everything on their menu before you place your order. And to help you calculate prices, just think about $1 being around 30 baht currently so, as you'll see from the photo above, something like a Deluxe Cheeseburger at McDonalds here is 39 baht or around $1.30. Hope that helps!