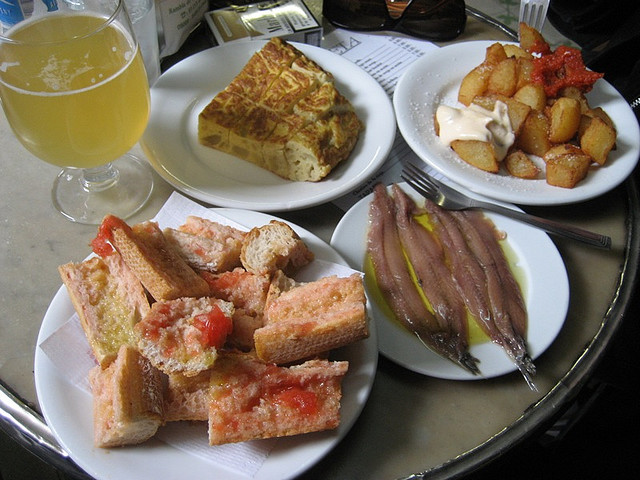 Mediterranean food is not only one of the world's healthiest cuisines, it's also the new 'in-style cuisine' in Bangkok, Thailand. With a number of Mediterranean restaurants popping up all over the city, if you love Greek, Italian or Spanish cuisine, start off with these three wonderful Bangkok Mediterranean restaurants. Great food, delicious wine and a fun environment.
Souvlaki Greek Grill – As the name suggests, Souvlaki serves an incredible variety of delicious Greek food. Located in the trendy Silom area of Bangkok, Souvlaki is the latest Mediterranean restaurant to be talked about as a 'must-eat place'.
At Souvlaki Greek Grill, you'll enjoy an excellent variety of Greek foods – chicken or pork gyros, lamb kebabs, beef meatballs, lamb dolmades, spanakopita (spinach and feta cheese pie), humus, grilled monkfish skewers, lamb souvlaki and, of course, stupendous Greek desserts like baklava or Greek yoghurt with honey and fresh fruit.
Souvlaki Greek Grill also does a nice selection of vegetarian dishes and salads, if meat just isn't your thing.
Prices at Souvlaki Greek Grill are inexpensive, particularly for the large portions, the staff is friendly and attentive, and they always have some excellent daily specials, where you can try items on the menu you might not necessarily try.
You'll find Souvlaki Greek Grill at 114/14 Soi 4, Silom Road, Bangrak in Bangkok – close to Sala Daeng sky train station.
Romana Italian and Spanish Restaurant – For a great mix of Mediterranean-style food, you can't beat Romana, Italian and Spanish Restaurant close to the Phrom Phong sky train station in downtown Bangkok. Serving traditional dishes from both Spain and Italy, any Mediterranean food lover will be in heaven here.
At Romana, enjoy the paella, tortillas, tomato truffle soup, fried calamari, foie gras, various Italian-style pastas, Italian-style pizza, that you'd find in any traditional Italian or Spanish restaurant in Europe. Don't miss the pannacotta and tiramisu for dessert either, or the restaurant's extensive wine list.
Romana's is a fun place to eat as, depending on your mood, you can choose either upstairs for a more sedate, candlelight, elegant dining experience, or downstairs with the live music and a variety of Mediterranean
and Thai singers.
Romana's Italian and Spanish Restaurant is at 28-28/1 39 Complex, Sukhumvit 39 in Bangkok – only a short walk from Phrong Phong sky train station downtown.
Sacz at The Majestic Grande – One of the finest hotels in downtown Bangkok, The Majestic Grande also has one of the city's best Mediterranean restaurants. Sacz is an elegant Mediterranean eatery, concentrating on Italian cuisine but also serving dishes from several other Mediterranean countries including Spain and Greece.
At Sacz, there's a choice between eating in the sumptuous indoor restaurant where you'll feel like you're sitting somewhere in Venice or Rome, or outside on a divine patio soaking in the warm tropical Bangkok air.
Sacz is known for its superb Italian cuisine, but even more so for its live jazz music. Every night, you'll find some of the best jazz musicians and bands in Bangkok, that will serenade you while you enjoy a tasty pasta, a crisp salad, some of the city's freshest seafood or one of the best paellas outside of Spain.
Sacz also has a pleasant bar, where you can enjoy an aperitif before going in for dinner. You'll find Sacz at the ritzy Majestic Grande at 12 Sukhumvit, Soi 2 in Bangkok.