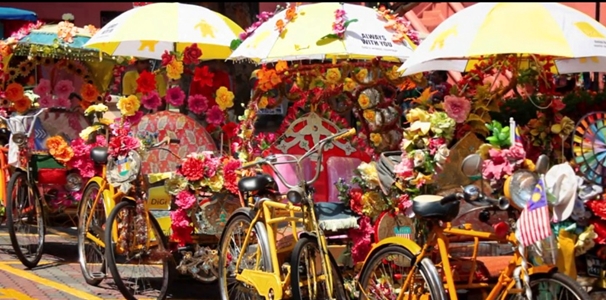 A few years ago, I visited Melaka, Malaysia on a short one-day trip and loved it so much I was soon back there again for longer. In the last few years, Melaka has become the best Malaysian travel destination and, for 2015, it's likely to be so again. If you're looking for a good Malaysian travel spot for a 2015 trip, look no further than Melaka. It's lovely and here's why.
Melaka (also known as Melacca) is the capital of Melaka state and was named as a World Heritage Site in 2008 due to its historical significance for Malaysia and the region, as well as for its architecture, old ruins and, of course, the many wonderful things for people to see.
Historical Significance – Melaka was one of the region's most important trading ports for several hundred years. First colonized by the Portuguese and the Dutch, and then by the British, not only does modern day Melaka still have remnants of what those cultures left behind, and which are now intertwined with the local culture, it's also quite important in Malaysian history too.
All four countries have important historical buildings still standing and, if you love to explore ruined chapels, Chinese cemeteries, colonial houses and see old Portuguese military finds, you will be in seventh heaven in Melaka.
Don't miss the city's wonderful museums as well. It currently has 14 museums, which you can spend days going around while learning so much about what makes Melaka the amazing place it is today.
Awesome Shopping – If  you love to shop, you'll have problems stopping in Melaka. The city has a wonderful selection of art galleries, antique stores, independent boutiques and Malaysian craft stores that will keep you busy for hours, and a trip to the world-famous Jonker Street is a must. If you get tired, take a break at one of the street's wonderful cafes or restaurants.Be warned though, eat early as the restaurants become incredibly packed by lunchtime.
Don't miss San Su Gong, Melaka's popular local products store too, as they have some of the most unusual items in Jonker Street.
Tri-Shaw Ride and River Cruise – If you don't feel like walking all over Melaka, the two best ways to see it are by Tri-Shaw ride or River Cruise.
The tri-shaws are absolutely incredibly three-wheeled bicycles with an enclosure you sit in up front while the driver pedals along behind. What makes the tri-shaws so unusual though are the stunning fresh flowers each one is bedecked with. Simply gorgeous. In fact, I've traveled all over the world and never seen anything like them.
You can rent a tri-shaw for a few minutes, an hour or longer. Just tell the driver where you want to go and ask what the price is. Climb in and you're off.
The Melaka River Cruise, of course, is just as it sounds. A boat trip on the river, and yes it's quite lovely and cooling. You can find out more information here.
Melaka's Restaurants – Melaka has many excellent local restaurants, some of which are famous with both locals and tourists. You'll find local specialties like Chicken Rice or Laksa are wonderful to eat, as well as some delicious Malaysian and Chinese desserts.
Make sure you keep enough time for lunch or dinner no matter where you are in Melaka, as you are sure to find something quite delicious.
For more information about why Melaka is the best Malaysian destination for 2015, watch the video below and you'll see how visually stunning Melaka is.
And read this if you'd like to stay in one of the clean, comfortable and pleasant budget hotels in Melaka.