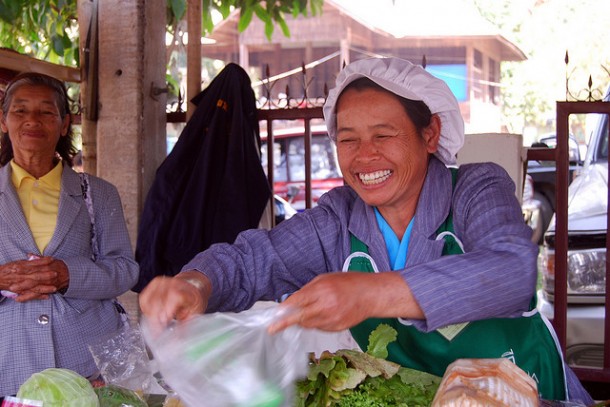 Yesterday, April 1st was the day Thailand's minimum daily wage increased to 300 baht (around $10), after Thailand's Pheu Thai government followed through on an election promise, and many low-paid Thai workers are celebrating. With increases of up to 40 percent in some areas of Thailand, it's quite a big jump for low-paid Thai employees, many of whom have found it tough to survive on their usual 180 to 240 baht  ($6 to $8) per day, especially as prices are rising so fast in Thailand.
The 300 baht daily minimum wage policy took effect in seven provinces – Bangkok, Nonthaburi, Samut Prakan, Samut Sakhon, Nakhon Pathom, Pathum Thani and Phuket, with other provinces with lower costs of living also seeing an increase in the minimum wage, but not up to the level of 300 baht.
Of course, there are the naysayers (you can count just about anyone who is in the Democrat Party and many who own businesses in Thailand in those figures) but, as per usual, they are also the ones who make far more than 300 baht a day.
Their complaints vary from "It won't help Thai workers" (now please explain to me, if many Thai workers are suddenly getting an extra 50 baht a day, or around 1,400 baht ($46) a month that isn't going to help them? Only somebody with money would subscribe to that type of warped logic) to "it's going to damage Thai businesses" (then, if you own your own business, maybe stop being so greedy and pay yourself less and your employees more?).
For many Thais, suddenly seeing an up to 40 percent increase in their salaries is a massive change. I talked to a Thai acquaintance yesterday who works in a local factory 26 days a month and her salary is going to increase by around 1,200 baht a month ($40). She is ecstatic as, with her husband getting a similar increase, it's going to mean being able to pay for some English classes for their two kids and an ability to take a holiday – the FIRST holiday they have ever had I might add, as not one member of their Bangkok-born family has ever left the capital city to go anywhere, as they simply couldn't afford it before.