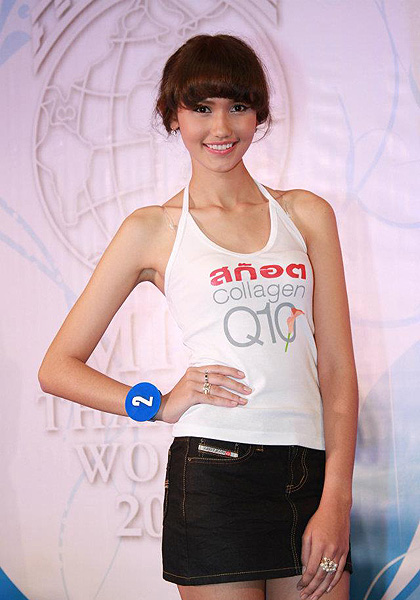 The beginning rounds of Miss Thailand World 2012 are currently taking place and the Bangkok Post had some beautiful photographs of the 30 finalists photographed this weekend in Chiang Mai at a competition preparation camp. In fact, I think it would be hard to pick a winner from all these girls, as so many of them are absolutely gorgeous.
All of the girls who enter are, of course, Thai (born in Thailand or a naturalized citizen), and between the ages of 17 and 24 per contestant rules, and the winner will represent Thailand in the Miss World 2012 competition in Inner Mongolia, China later on this year. Interestingly too, there's now a rule all contestants must be fluent in both Thai and English, something that wasn't the case just a few years ago.
The only sad thing, I think, about competitions like Miss Thailand World 2012, is they only choose white-skinned girls to represent Thailand which, considering some of Thailand's most beautiful women have darker skin, it's actually quite discriminatory.
Miss Thailand World has been held every year in Thailand since 1985, expect in 2008, when the competition was canceled due to the death of the King's sister, Princess Galyani Vadhana who, by the way, was a Thai beauty in her own right when she was young.
The winner of Miss Thailand World 2012 will be chosen on March 24, 2012 at Centara Grand at Central World Hotel in Bangkok, and the judges will have their work cut out for them, that's for sure.
Meanwhile, enjoy the photographs of this year's Miss Thailand World contestants. Stunning, aren't they?