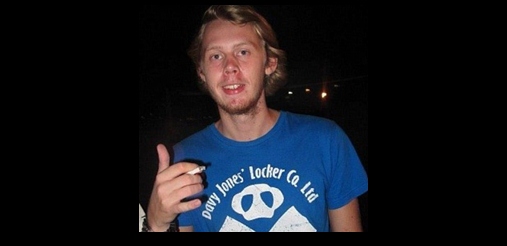 Missing British tourist, Tom Armstrong was apparently not 'missing' in Thailand at all it turns out. After his worried family had contacted the British Embassy in Bangkok, the British Foreign Office, Interpol and Thai police, it seems he was just in Thailand enjoying himself and hadn't bothered to inform his family he was fine.
Armstrong had originally been due to fly home to the UK before Christmas but had told his family he'd had 'some trouble' but didn't say what and that he'd be returning at a later date.
He had then rescheduled his trip home for January 8th but had never boarded the plane. It was then the Armstrong family became worried and, within days, contacted the authorities saying their son was missing somewhere in Thailand.
A month went by with a couple of 'possible sightings' of Tom in Bangkok, but still no calls or emails to his family from the missing man.
Armstrong's father eventually flew out to Thailand with the intention of working with Thai authorities and the British Foreign Office to locate his son. Tom Armstrong, however, was located soon after.
So far, according to the BBC, no details other than that have been released — except for his family saying he has been located and he is "safe and well".
Unfortunately, from people I've met traveling in Thailand, this type of thing seems to happen quite often, although maybe not quite to the extent of Tom Armstrong, who ended up with Interpol looking for him.
People who are young and wrapped up in their own lives, however, sometimes don't stop to think for a second that they might have family worrying about them at home. They're just having so much fun in Thailand.
Moral of the story? If you're traveling in Thailand and your plans change, let your family know about them, tell them where you are and keep in regular contact no matter what you are doing. After all, with email it takes two minutes, and a phone call doesn't take much longer or cost more than a few baht.
That way, if you do go missing somewhere in Thailand, they know when to contact Interpol and the British Foreign Office and at least they'll have an idea where to start looking for you.