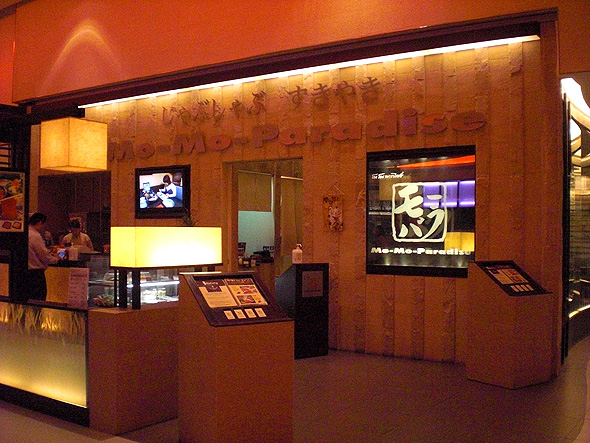 Recently, I ate for the first time at one of Bangkok's newest shabu-shabu restaurants, Mo Mo Paradise. If you don't know, shabu-shabu is a form of hot pot restaurant, where you cook meat and vegetables at your table in a huge hot pot filled with boiling water or sauces. Mo Mo Paradise  entered the already crowded Bangkok shabu-shabu restaurant market a couple of years ago, but, I'm betting it's already one of the city's favorites.
The Atmosphere at Mo Mo Paradise – Bangkok's Mo Mo Paradise is designed in a Japanese style but is very relaxed. The atmosphere is nice as, when we were there it was crowded, but there wasn't any loud music playing and, even though everyone was talking, it didn't seem loud or annoying. They also have a nice little waiting area outside the restaurant that's cozy and comfortable and, on the weekends, Mo Mo Paradise is very busy so this area is packed too.
The restaurant itself is quite large but there's not much room for the servers, and there are a lot of them, only tiny little corridors that they can squeeze through carrying loaded plates of raw vegetables, huge stacks of trays of beef and pork, and hot pots full of water. But, they've obviously been trained well as they gave way to customers every time and manage to be extremely efficient in a very tiny space.
The Food at Mo Mo Paradise – Obviously, you go to a restaurant to enjoy the food more than anything else and Mo Mo Paradise certainly doesn't disappoint.
When you get to Mo Mo Paradise and are seated by a waiter, you're given a menu where you can choose to either pay a la carte or all-you-can-eat. We chose all-you-can-eat beef and pork, plus all-you-can-eat vegetables and salad bar. What that meant was that small Japanese lacquered trays of thin slices of beef and pork were brought to our table and we were told to go to the salad bar and vegetable bar and choose what vegetables we wanted. We also ordered all-you-can-drink soft drinks.
We started off with two heaping plates of raw vegetables – several kinds of mushrooms, baby corn, bean sprouts, cabbage, bok choy, tofu and lots more delicious and very fresh vegetables. These we put into the boiling hot pot full of water that had been brought to our table as soon as we ordered.
Then we added slices of pork and beef in the hot pot, which was separated into two parts. In one part, we just kept the water and, in the other part, we added sukiyaki sauce to spice up the meat and vegetables, along with a whipped raw egg (the waiter brought a bowl of five raw eggs along with the meat, for us to break open, whip and then pour into the water). He also brought two different kinds of sauces, along with some herbs and spices to mix into one of the sauces.
The food only takes about 2-3 minutes to cook, then you fish it out with either chopsticks or a spoon, put it into one of the three small bowls they bring each person, then add one of the sauces and eat. The beef is Black Angus beef, cut into thin slices, and it's absolutely delicious. The pork is also a nice cut of meat, also cut into thin slices, and soft and tender as any pork I've eaten.
We also got four small bowls of rice for free, which was a nice addition to the meat and veggies. The vegetables were also fresh and perfectly cooked, and one of the two sauces was delicious (the less spicy sauce, no one at our table was particularly thrilled with).
When you get to Mo Mo Paradise and order all-you-can-eat, you're allowed to stay at the restaurant for 90 minutes, during which time you can eat to your heart's content. We were there at least 90 minutes and, when we left, all four in my group had stomach ache, we had eaten so much. But, we weren't complaining as it truly was delicious.
Price at Mo Mo Paradise – All-you-can-eat at Mo Mo Paradise is a pretty great deal. We had so much food, nobody could complain, yet for four people to eat and to drink all-you-can-consume, the total cost was only 2,200 baht (around $72). Yes, of course, expensive for a meal in Thailand but not for the amount and quality of the food.
Location of Mo Mo Paradise – Mo Mo Paradise is located in the newly renovated Central World Plaza on the seventh floor. It's in a lovely location, surrounded by other higher-class restaurants, cake shops and cafes. Be careful though, it's a bit difficult to find so be sure to ask someone if you have problems.
If you love shabu-shabu or hot pot restaurants, I have to say, you will love Mo Mo Paradise. The quality of the food is excellent, the price quite inexpensive, and the atmosphere and location nice. Just be warned, it gets very busy during the week, but on Friday, Saturday and Sunday nights it's absolutely crowded, so make a reservation if you can.