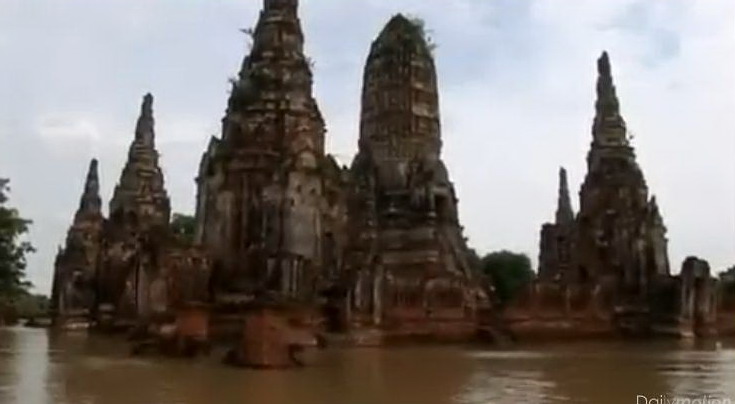 As floods in much of Thailand continue and, in some areas, worsen, it's being reported the former capital city, Ayuttayah, just an hour away from Bangkok and a UNESCO World Heritage Site, is likely to see major flooding in the town center area by this evening. Officials have told residents the area is expected to flood badly and to gather belongings and seek higher ground. Currently, many of Ayuttayah's roads are flooded, some train lines are under water, bus service to Ayuttayah has been suspended, and in some areas of the city houses already have two to three feet of water on their ground floors.
Several of Ayuttayah's ancient temples are already under water, including the 400-year-old Chai Wattanaram temple. The governor of Ayuttaya said 200 of the 500 temples in the province have been hit by the floods and more are expected to be affected in the coming hours.
For anyone thinking of a trip to Ayuttayah, the Tourism Authority of Thailand (TAT) has a special section of their website on the floods in Thailand, including Ayuttayah, with frequently updated listings of which historic sites and tourist attractions are open or closed.
But, as the situation is changing so rapidly, and as Thai friends tell us the flooding in Ayuttayah is very bad, and expected to worsen quickly, here at Tasty Thailand we advise no-one should be travelling to Ayuttayah until local authorities say the danger of flooding is over.
Remember, almost 250 people have died in Thailand's floods since July. It's better to be safe than sorry.


Flood Threatens 400 Yr Old Wat Chai Wattanaram… by bangkoktimesonline