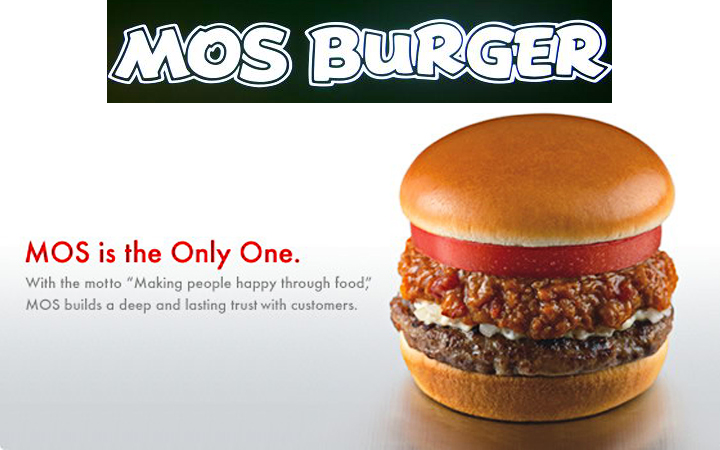 There is a Japanese burger chain in Bangkok called Mos Burger. 'Mos' comes from the first letter of these three words – Mountain, Ocean, Sun – and is a popular burger chain all over Asia. Mos Burger has been in Thailand for almost about three years now and it's very popular with Thais too.
I have wanted to try Mos Burger almost every time I've been to one of the malls they're located in, but every time I try there are too many people in line. So, a few weeks ago, I decided to go early to Siam Paragon Mall in Bangkok and see if it was possible to get a burger at Mos Burger without having to wait too long.
I arrived at Mos Burger at 11:15am and, to my surprise, there wasn't a line. The restaurant was about half full, so I leaped at the chance to get a table and marched up to the counter to order my burger. I decided to order 'Set C', which is the cheeseburger set. It includes a large cheeseburger, French fries and a coke for the price of 119 baht (approximately $3.78).
I ordered my food, then found a table and waited. Within a minute, the waitress had already brought my coke. I expected the food to arrive as quickly, so was quite surprised that it took almost 15 minutes before the food arrived, quite slow for a 'fast food' restaurant. Still, I was in no rush so didn't worry too much.
When my cheeseburger set arrived, the cheeseburger was in its own paper cone (a good idea as it looked very sloppy, so the paper cone made it easy to eat), and this was placed in a small basket. French fries were put next to the cheeseburger, but also in the basket. The burger was large and looked nice.
The French fries however were a small portion, about half the size of a Burger King portion, but very tasty.
As for the taste of the cheeseburger, it is a little hard to describe. The meat is a slight grey color, which I think is a bit off-putting. It's also a mixture of beef and pork as, supposedly that is healthier. The cheeseburger has a slice of processed cheese on it and then there is a thick layer of an odd looking sauce. It looks a bit like ketchup but it's more orange in color and has what I think were onions and then some spices in it.
It tastes a little bit like chili, but not – in fact, if pressed, I couldn't even hazard a guess as to what is in it.
I ate the meal and, yes, if you can get past the taste not being quite what you expect at first, it was very nice.
Other then French fries, Mos Burger also sells Teriyaki Burger, Spicy Burger, Chicken Burger, Fish Burger, Rice Burger, Butterfly Prawns, Chicken Nuggets, Chili Dogs, Soups, and desserts such as Rice Flake Shakes and Ichigo Bliss (frozen strawberries).
If you're interested in trying Mos Burger in Thailand, there are several branches in Bangkok although the one at Central World Plaza mall and one at Siam Paragon mall are the most popular.