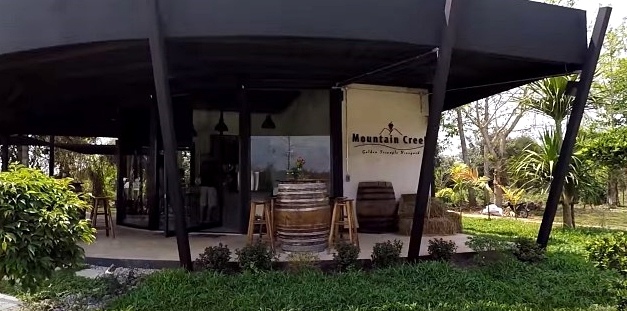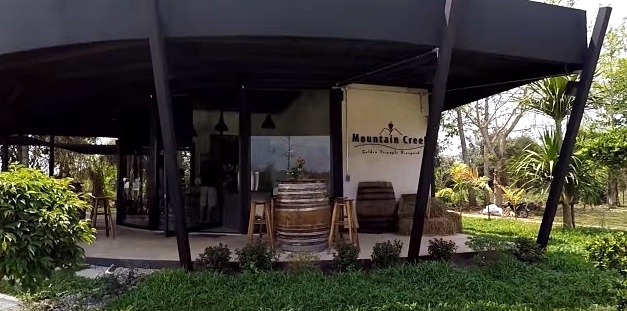 Mountain Creek Vineyard in Chiang Rai is lovely if you want to visit a Thai vineyard
If you are interested in visiting a Thai vineyard, and will be in Chiang Rai in northern Thailand, you should take a look at the small independently-owned Mountain Creek Vineyard.
Owned and operated by a German man who has lived in Thailand for quite a few years, Mountain Creek Vineyard is set in the middle of farmlands about 50 kilometers, or around a 40 to 50 minute drive depending on traffic, from Chiang Rai.
If you are in Chiang Saen itself, it is even closer.
Mountain Creek Vineyard is just a small place, but has a lovely cafe and wine bar where you can get excellent coffee, exceptional homemade cakes and some pretty decent western food such as burgers, fish and chips, pork chops, beef steak and club sandwiches, as well as a variety of Thai foods.
Just about everyone that has eaten there says the food is lovely and, with a burger costing only 95 baht and fish and chips at just 145, it is inexpensive to boot.
The small but beautifully designed wine bar has a small number of Thai wines you can try,and it is lovely sitting out in the garden overlooking the vines no matter what you decide to eat or drink.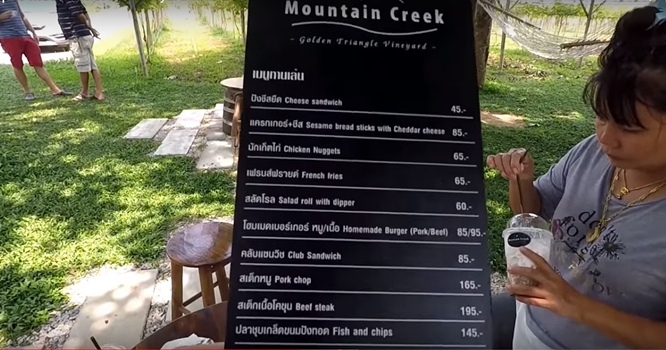 If the owner is on site when you are there, he will even give you a tour of the vineyard itself so you can learn about how they grow and pick the grapes and what Mountain Creek Vineyard does with their grapes besides have them made into wine.
For a closer look at Mountain Creek Vineyard in Chiang Saen, Chiang Rai, check out the lovely video below. It was filmed by the excellent Thailand-based YouTube vlog channel Graham and Pie when they visited the Thai vineyard last year, and gives you a great idea of what you can expect if you head there too.
Mountain Creek Vineyard is located at 144 Moo.1 T.Pasak Chiang Saen, Chiang Rai (address in Thai — บ้านแม่คำเกษตร ต.ป่าสัก อ.เชียงแสน, 57150 Amphoe Chiang Saen) 
You can get easy directions to Mountain Creek Vineyard from wherever you are in the area on Wego.
Related: Where to get the best selection of wines in Bangkok, Thailand